Details

Last Updated: Tuesday, 12 November 2013 15:50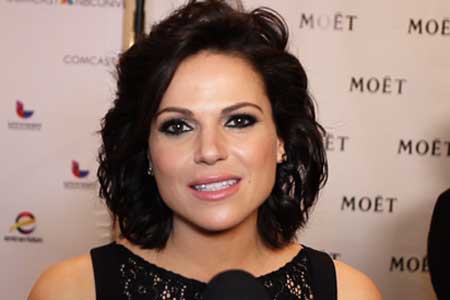 If playing two vastly different characters on ONCE UPON A TIME wasn't enough, Lana Parilla reveals her character will have another dimension to her Evil queen/Regina Mills dynamic.

CineMovie caught up with the ONCE UPON A TIME actress at the 16th Annual Impact Awards on February 22nd where she was being honored by the National Hispanic Media Coalition for her work on television along with Michael Peña, Mario Lopez, Morena Baccarin (Homeland), Gina Torres (Suits), and Emmy Award winner John Leguizamo.

The actress from Puerto Rican and Sicilian descent talked about her life-changing role playing the Evil Queen and Regina Mills on the ABC hit. When she first took on the dual role, she was worried the evil side would make her character one-dimensional but she's glad to be able to have added "heart" to the show.

The New York native did offer CineMovie insight into future episodes of the fantasy adventure series. "I just learned there's another side of her that we haven't seen," she said of a new script she just received the day of the awards.

The new season of ONCE UPON A TIME saw new fabled characters entering the mix. CineMovie wanted to know what other mythical players would she want added to the show. The actress loves native culture so she would love to see Pocahontas enter the fray, but she's not so sure her bows and arrows would be a match against the magically endowed. She also wouldn't mind seeing another Disney villain as perhaps her sibling to the evil side of her. "Ursula – she can be an evil sister for me, which I would like."

The ONCE UPON A TIME producers may perhaps grant her wishes in upcoming seasons, but for now, she is living the Hollywood fairy-tale playing dress up as Hollywood royalty on the red carpet.

ONCE UPON A TIME airs Sunday on ABC.