Win It!
Details

Published: Tuesday, 26 March 2013 05:03
JURASSIC PARK returns to theaters April 5 in 3D and CineMovie is giving away tickets to see it in the Los Angeles area (South Gate). Find out how you can win tickets.
Universal Pictures will release Steven Spielberg's groundbreaking classic JURASSIC PARK in 3D on April 5, 2013. With his remastering of the epic into a state-of-the-art 3D format, Spielberg introduces the three-time Academy Award®-winning blockbuster to a new generation of moviegoers and allows longtime fans to experience the world he envisioned in a way that was unimaginable during the film's original release. JURASSIC PARK Fun Facts

Starring Sam Neill, Laura Dern, Jeff Goldblum, Samuel L. Jackson and Richard Attenborough, the film based on the novel by Michael Crichton is produced by Kathleen Kennedy and Gerald R. Molen.
Official Site: www.jurassicpark.com
To enter the JURASSIC PARK 3D Ticket Giveaway, click on the Entry Form below.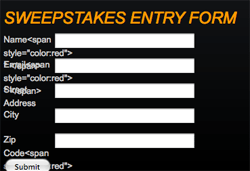 NO PURCHASE NECESSARY.
PROMOTION DESCRIPTION: JURASSIC PARK 3D ("Sweepstakes") begins on or about March 25, 2013 at 6:00 p.m. Eastern Time ("ET") and ends on April 4, 2013 at 11:59 p.m. ET (the "Sweepstakes Period"). At the end of the Sweepstakes Period, a random drawing will be conducted to select winners from among all eligible entries received, as more fully set forth in the OFFICIAL RULES. Entry in the Sweepstakes does not constitute entry into any other promotion, contest or sweepstakes. By participating in the Sweepstakes, each entrant unconditionally accepts and agrees to comply with and abide by these Official Rules and the decisions of CineMovie TV, 2700 Arlington Ave. Ste. 101 Torrance, CA 90501 ("Sponsor"), which shall be final and binding in all respects.
No one will be admitted late. This ticket may be used for admission only by the person to whom we issued it; it is not transferable. It has no cash value. The screening will be monitored for unauthorized recording. By attending, you agree not to bring any video or audio recording devices (including, without limitation, cameras) into the venue and you consent to a physical search of your belongings and person for recording devices. If you attempt to enter with a recording device, you will be denied admission. If you attempt to use a recording device during this screening, you consent to your immediate removal from the venue and forfeiture of your recording device and its contents. Any attempted unauthorized recording will be reported to law enforcement and may subject you to criminal and civil liability. We reserve the right to pursue any and all available remedies at law and in equity for any unauthorized recording and/or copyright infringement, including without limitation statutory damages of up to $150,000 per violation, and nothing contained in this notice shall be construed to limit our available remedies and/or legal recourse. You assume all risks of personal injury arising from or incidental to attending the screening, whether occurring prior to, during, or after the event. Further, by attending you grant permission to WDSMP, its licensees, licensors, affiliates and agents, to record and utilize your name, voice and likeness to publicize the screening and promote the movie.