Details

Last Updated: Tuesday, 12 November 2013 15:38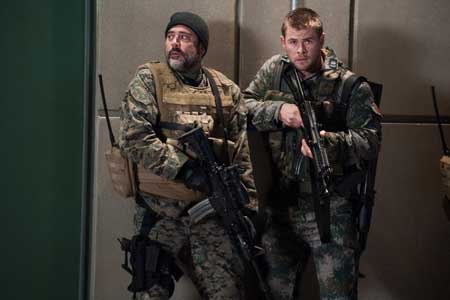 When he's not avenging with a bunch of superheroes, Chris Hemsworth is helping to save the United States from the Northern Koreans with a dozen teen rebels in the reboot of the 1984 action flick - RED DAWN. Watch a 2 1/2 minue clip with Hemsworth and Tom Cruise's son Connor Cruise.

The original RED DAWN starred the 80's brat pack Patrick Swayze, Charlie Sheen, Lea Thompson, Jennifer Grey, C. Thomas Howell, and the leader Powers Booth. Times have changed with the new enemy now being North Korean instead of Russia, and new teen hearthrobs as the rebel force known as "The Wolverines."

Starring a slew of familiar faces like Thor's Chris Hemsworth, Josh Peck, The Hunger Games' Josh Hutcherson, Adrianne Palicki, Isabel Lucas, Jeffrey Dean Morgan, and new to the acting universe is Tom Cruise's only son Connor Cruise, making his acting debut.

In RED DAWN, a city in Washington state awakens to the surreal sight of foreign paratroopers dropping from the sky – shockingly, the U.S. has been invaded and their hometown is the initial target. Quickly and without warning, the citizens find themselves prisoners and their town under enemy occupation. Determined to fight back, a group of young patriots seek refuge in the surrounding woods, training and reorganizing themselves into a guerilla group of fighters. Taking inspiration from their high school mascot, they call themselves the "Wolverines", banding together to protect one another, liberate their town from its captors, and take back their freedom. RED DAWN opens Thanksgiving weekend.