Coming Soon
Details

Category: Coming Soon
Published: Wednesday, 10 March 2021 23:22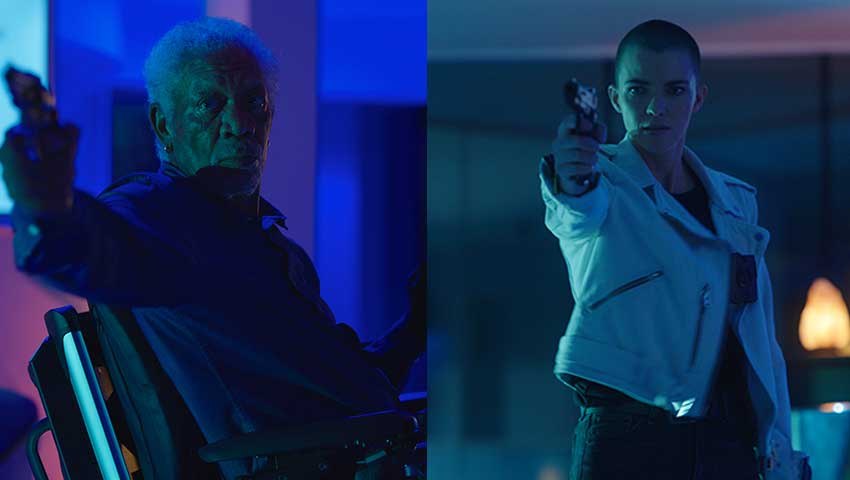 Ruby Rose and Morgan Freeman star in the action-thriller, VANQUISH. In a familiar plot, Freeman kidnaps Rose's daughter to force the former Russian drug courier to do his criminal bidding. A new trailer and poster was released. Watch the new preview and check out the most creative use of guns on the movie's one-sheet.
Rose with a shaved head, is an action star in VANQUISH with slick stunts and action sequences. Fans of her short stint as Batwoman can enjoy her return to her bad assery ways in this film.
VANQUISH is headed straight to On Demand and Digital April 23 and Blu-ray/DVD April 27.
Official Synopsis
From the director of DOUBLE TAKE, MIDDLE MEN, and THE POISON ROSE comes this stylish, glossy action-thriller starring Morgan Freeman (Se7en) and Ruby Rose ("Orange Is the New Black") that shows what desperation can drive a person to do. A mother, Victoria (Rose), is trying to put her dark past as a Russian drug courier behind her, but retired cop Damon (Freeman) forces Victoria to do his bidding by holding her daughter hostage. Now, Victoria must use guns, guts, and a motorcycle to take out a series of violent gangsters — or she may never see her child again.
Directed By
George Gallo
Screenplay By
George Gallo and Sam Bartlett
Run Time: 96 minutes | Rating: R