Coming Soon
Details

Category: Coming Soon
Published: Thursday, 29 March 2012 11:42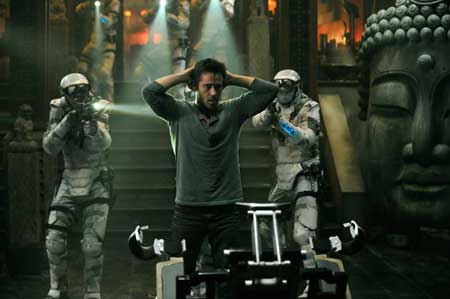 Movie fans will get a first look at the sci-fi remake when the world premiere of the trailer starring Colin Farrell, Kate Beckinsale, and Jessica Biel debuts on ABC during the Boston Celtics and the Miami Heat face-off Sunday, April 1st.
The TOTAL RECALL trailer will air during the first half of the game and will be promoted with tune-ins on ABC leading up to the game. Columbia Pictures announced the news today and said the first-look will also launch simultaneously in over 30 countries on broadcast and online outlets. Following the trailer's premiere on ABC, a special extended trailer will debut online at www.apple.com/trailers. TOTAL RECALL opens August 2, 2012.


Who wants to take a bet the TOTAL RECALL trailer leaks onto the internet before the ABC debut Sunday?

About TOTAL RECALL
Total Recall is an action thriller about reality and memory, inspired anew by the famous short story "We Can Remember It For You Wholesale" by Philip K. Dick. Welcome to Rekall, the company that can turn your dreams into real memories. For a factory worker named Douglas Quaid (Colin Farrell), even though he's got a beautiful wife (Kate Beckinsale) whom he loves, the mind-trip sounds like the perfect vacation from his frustrating life - real memories of life as a super-spy might be just what he needs. But when the procedure goes horribly wrong, Quaid becomes a hunted man. Finding himself on the run from the police – controlled by Chancellor Cohaagen (Bryan Cranston) – there is no one Quaid can trust, except possibly a rebel fighter (Jessica Biel) working for the head of the underground resistance (Bill Nighy). The line between fantasy and reality gets blurred and the fate of his world hangs in the balance as Quaid discovers his true identity, his true love, and his true fate. The film is directed by Len Wiseman. The screenplay is by Kurt Wimmer and Mark Bomback and the screen story is by Ronald Shusett & Dan O'Bannon and Jon Povill. The producers are Neal H. Moritz and Toby Jaffe.