Details

Category: Interviews
Created: Friday, 20 May 2016 15:42
Published: Friday, 20 May 2016 15:42
Written by Lupe R Haas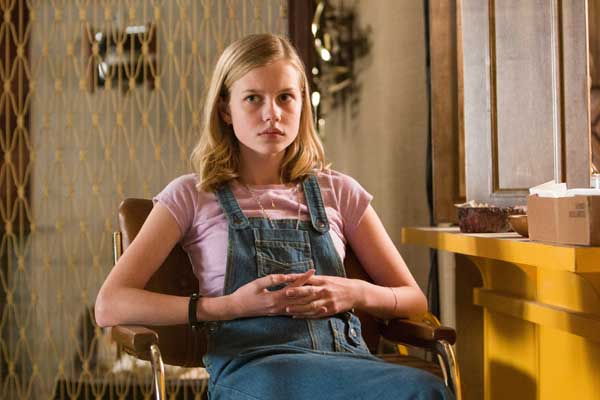 Fifteen year-old actress Angourie Rice makes an impressive debut in Hollywood playing Ryan Gosling's daughter in THE NICE GUYS also starring her fellow Australian Russell Crowe. The young actress steals the show in the Shane Black movie, which no doubt will lead to more roles. Here are nine things to know about the up-and-coming actress.
Rice won the role of Holly over hundreds of other hopefuls in an extensive search. As Holly, the young Australian actress didn't play the usual obnoxious teen, but a girl who has to be the adult in her relationship with her dysfunctional father. She definitely holds her own against powerhouse actors like Gosling and Crowe.
Here are 9 tidbits we learned about Angourie Rice at a recent sit down with the actress.

1. Bonding with Ryan Gosling

To get to know her on screen father, Gosling invited Rice to his home around the Halloween season and the two carved pumpkins together.


2. Intimidated by Crowe

Rice admits she was intimidated by the Crowe's stature, and when he asked if she was a sports fan, she cringed since the answer might not be what Crowe was looking for. However, the two got along fine, and he gave her a tip every actor needs to know.

"He told me to line up for my own close-up so they get the lighting right," Angourie recounts from her time on the set.

Stand-ins often take the place of actors when lighting is being set for the next scene so for a newcomer, she appreciated the help.

3. Loves Fashion

Rice says her other passion includes fashion, and she took inspiration from the film's 70s wardrobe, calling it "wearable architecture." She would be open to creating her own fashion line in the future.

4. Loves Technology

Since THE NICE GUYS takes place in 70s Los Angeles, Rice couldn't imagine living in a time where there are no cell phones or portable computers. "I love my iPhone and my laptop," says the young actress.

5. Schooling

Acting is a part-time passion for Rice, so she'd love to finish school in her native Australia and eventually would consider attending college in Melbourne or perhaps Germany since she speaks the language, and lived there as a child.

"The colleges here sound amazing, but they're really expensive," she says about continuing her education.

6. Love of Music

Besides acting and fashion, Rice is also passionate about music. Rice reveals she plays the violin and the ukulele in the school orchestra back in Australia.

"I bought my ukulele to set and I would play that," she proudly stated.

7. First Acting Gig

She first appeared on Australian television at the age of 6 in a commercial spot for a university.

8. Ideal Roles

Rice may only be 15, but this old soul knows exactly what she wants from future roles.

"I want to play strong roles, and I just don't want to be the girl-next-door or the love interest because that's not what women are in real life."

Rice is off to a great start in THE NICE GUYS, but the one role she'd really love to play is a classic one.

When CineMovie asked if she has a dream role, she mentioned reading Jane Austin's Emma.

"I'd love to play Emma. It would be so cool especially because I feel like I'm a lot like her. Playing her would be amazing."