Details

Created: Thursday, 17 October 2013 14:08
Published: Thursday, 17 October 2013 14:08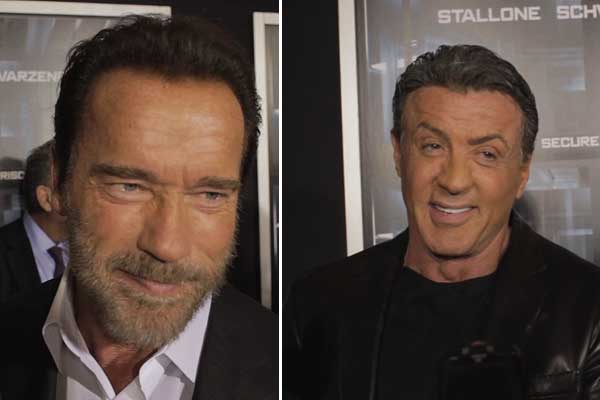 Two of the biggest names in the action genre joined forces as co-leads in ESCAPE PLAN and the two are telling CineMovie at the red carpet premiere in New York City why it took them years to find a project to work on and why Stallone says it was "hate at first sight" when the two met.

 

Arnold Schwarzenegger and Sylvester Stallone have already worked three times together on The Expendables, but the Terminator explains to CineMovie's Edie Nugent on the red carpet that this is the first time the two icons worked together full-time. For The Expendables, Schwarzenegger's role was more of a cameo so he would only come in for a week or so to shoot, according to the former body builder. In ESCAPE PLAN, he worked with Stallone from start to finish so he considers this film the first time they truly got to experience working together.

Arnold Schwarzenegger also reveals it took years to find the right project to co-star and they've had their share of "ludicrous" scripts sent to them. ESCAPE PLAN was the perfect vehicle for the two action icons.

We asked if when they met, there was a bit of competition between them. Arnold skipped the question, but came right out and said it. "It was like hate at first sight," said the man behind Rocky and Rambo. He adds that both are very competitive and at the time they met in the 80s, their names were becoming synonymous with the action genre which was just starting to become popular.

Their ESCAPE PLAN co-star Jim Caviezel says he was a big fan of both Arnold Schwarzenegger and Sylvester Stallone growing up so it was difficult starring alongside his idols especially Rocky Balboa. He explains that he actually thought Rocky was a real boxer and when asked by a coach to name their favorite fighter, he said Rocky.

ESCAPE PLAN is in movie theaters October 18, 2013.