Details

Published: Monday, 28 January 2019 18:58
Written by Lupe Rodriguez Haas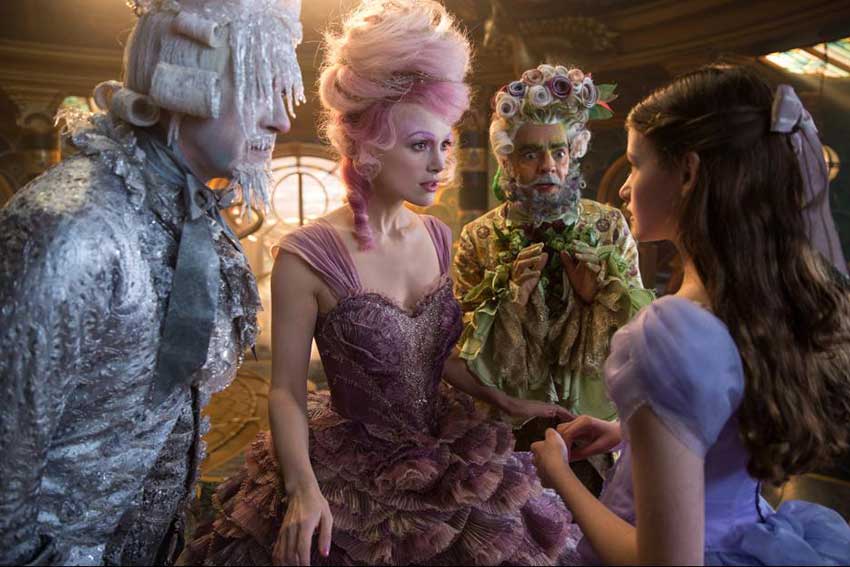 Experience the gorgeous costumes of Disney's THE NUTCRACKER AND THE FOUR REALMS when it arrives home on Digital, Blu-ray and DVD on January 29. CineMovie spoke with two-time Oscar winning costume designer Jenny Bevan (MAD MAX: FURY ROAD, CHRISTOPHER ROBIN) about designing the beautiful wardrobe and bedazzling the actors with tons of glitter.
Jenny Bevan, the London-born costume designer is a Hollywood veteran nominated 10 times for an Academy Award with two wins for Best Achievement in Costume Design (1985's A ROOM WITH A VIEW, MAD MAX: FURY ROAD), and a two-time Emmy Award winner with a total of five nominations.
THE NUTCRACKER AND THE FOUR REALMS is part period piece and part fantasy. Clara's world is set in 19th century England but when she ventures into the Four Realms, that's where things got interesting for the veteran costume designer. Jenny Bevan is no stranger to period pieces but the fantasy part proved challenging. For the Disney movie, she employed a different type of team to help with the fantastical wardrobe.
"I had the most extraordinary breakdown team and embellisher team. I've never had a team of embellishers before."
Starring Mackenzie Foy, Helen Mirren, Morgan Freeman and Keira Knightley star in THE NUTCRACKER AND THE FOUR REALMS. Clara is transported into a magical world of gingerbread soldiers and an army of mice. In this mysterious parallel world, the inhabitants are quite sparkly thanks to Jenny Bevan's team of "embellishers" who in essence bedazzled the actors in flowers and a tremendous amount of glitter. Perhaps the realm should be renamed the Land of Bedazzle. The glitter proved to be the most challenging, and anyone who has ever worked with glitter knows how messy it is to apply it to anything, let alone human actors.
"We used special spray booths and people wore masks and it's relatively safe these days. When I started I remember making myself completely sick on spray paint because I had no idea you're supposed to wear masks and do it outdoors. I mean for a long time ago, but these days, but we're much, much more careful with not only the products we use and try to be environmentally conscious but also the safe care of the operatives. So everybody wears masks and they do it in a proper spray booth with ventilation, extract fans and all that. But yeah, we used a bit of glitter."
The British-born costume designer can say she's never worked with so much glitter in her life. "We went for broke," she tells CineMovie. She jokes she still has glitter in her own wardrobe.
Disney's Nutcracker Star Mackenzie Foy On How She Used Black Belt Training In Movie
Actors such as Keira Knightley, Eugenio Derbez and the extras had to endure the bedazzling phase of their costumes but there were no complaints, according to the Oscar winner.
"They were fine. They were actually fine. Nobody complained. I think they enjoyed wearing slightly eccentric outfit. They were just lovely. We had the loveliest bunch."
Ninety percent of THE NUTCRACKER AND THE FOUR REALMS costumes were made by Bevan and her team while others were rented. Clara played by Foy had the most costume changes with seven different outfits, and since she was still a minor during production, Bevan says multiple costumes of the same dresses were duplicated for her two stand-ins and stunt doubles. For example, the little soldier dress numbered at least six along with another outfit. The coronation gown didn't have any duplicates.
The soldier dress was by far Bevan's favorite piece from THE NUTCRACKER AND THE FOUR REALMS. Sadly, as a costume designer for hire, she doesn't get to keep any of the beautiful wardrobe and they're stored in a vault on the Disney Studios lot.
Costume designing has changed thanks to technology. The costume designer says digital printing and 3D printing has helped them immensely. Research also has become easier at the touch of a button, but the immediacy of the world wide web also has its downside.
"I think it's also been a disaster, this email and sort of being basically permanently attached to your mobile phone and they get really irate when you don't respond immediately. And also the way they can change stuff, they're not shooting that scene tomorrow - we're bringing something forward. It is tricky and makes people more lax, I think."
Sometimes costumes get a little boost in post production with a color adjustment or what not, but Bevan prefers to capture the beauty of the costumes in camera.
And also the other famous phase, 'We'll fix it in post,' meaning you don't have to worry about it for now because we'll recolor it or re- whatever it. And you're just like 'no, let's do it for real. Let's do it right."
And right they got it with costumes that pop off screen in THE NUTCRACKER AND THE FOUR REALMS. Get a behind the scenes look at Jenny Bevan's beautiful work on the Blu-ray and DVD bonus features available January 29.