Details

Category: Interviews
Created: Wednesday, 17 September 2014 18:32
Published: Thursday, 18 September 2014 14:00
Written by Lupe R Haas
David Caruso famously quit his hit show NYPD Blue to become a movie star, but it never materialized. Others like George Clooney had better luck transitioning. Dan Stevens' ticket to stardom came with the success of the popular PBS show "Downtown Abbey" and after two seasons he was killed off so he could pursue a Hollywood career on the big screen. It's looking like it's paying off with a slew of big films including the Liam Neeson-starrer A WALK AMONG THE TOMBSTONES and upcoming films alongside Ben Stiller, Adam Sandler and John Travolta.
Dan Stevens is nearly unrecognizable as Kenny Kristo, a drug trafficker in A WALK AMONG THE TOMBSTONES who enlists Liam Neeson's private detective to find his wife's killers. Stevens lost 30 pounds, darkened his hair and grew a goatee for the role opposite Liam Neeson. Most fans won't recognize the Matthew Crowley of "Downtown Abbey," in this film, but Stevens is happy about that.
"It thrills me when people say 'Oh, I saw Tombstones and I had no idea it was Matthew from Downtown.' That's kind of the point. It's great."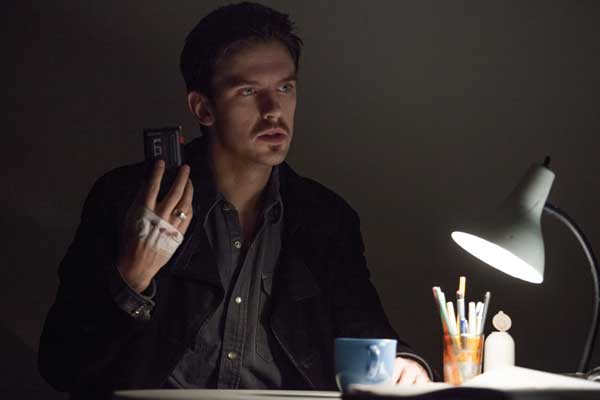 At a Los Angeles press conference for the movie, Stevens says he's gone through several physical transformations for his recent movies. After shooting the Liam Neeson film, he gained back the 30 pounds to play a psycho in "The Guest." He later put on 50 pounds of armor to play Lancelot in "Night of the Museum: Secret of the Tomb" opposite Ben Stiller. He took it further by putting on a dress for the television show "High Maintenance."
Stevens admits looking for a range of roles. "As an actor I dreamed of inhabiting a number of different roles and surprising myself and others."
The British-born actor is getting his wish playing vastly different characters and starring with other top actors besides Liam Neeson in high-profile films. Has coming to Hollywood and acting alongside childhood heroes been surreal for the 31-year-old?
"At times for sure. It's been amazing year just working with a number of my childhood heroes… Liam Neeson, Ben Stiller, Adam Sandler in "The Cobbler" and John (Travolta)in "Criminal Activities." It is quite extraordinary, but what's really exciting for me is seeing how these guys work especially on Tombstones."
Dan Stevens most of all admired and learned from the star of A WALK AMONG THE TOMBSTONES.
"Liam leads a great set. He takes the work very seriously. He's a total pro. He shows up very cool, gets the job done, but I also like his way of working. He has a lightness off camera which keeps everyone in the right place. It's a very dark film so if we had to inhabit that the whole time, it could be a lot tougher than it was. He's a great guy to work with."
Look out for Dan Stevens in four films before years end including A WALK AMONG THE TOMBSTONES which opens September 19.
Liam Neeson Interview: Why He Likes Playing Loner-Types