Details

Created: Thursday, 29 August 2013 22:46
Published: Thursday, 29 August 2013 22:46
Written by Lupe Haas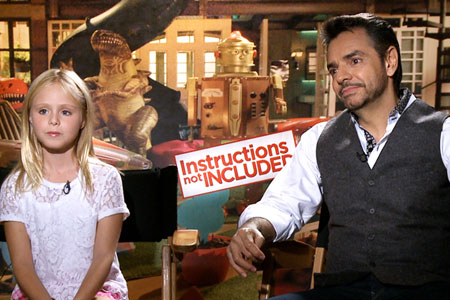 Mexican comedian and actor Eugenio Derbez brings along his cute little co-star to talk about the film he directed, wrote and starred in. The INSTRUCTIONS NOT INCLUDED star discusses the difference between making a film in Mexico versus the United States, and why this film about a single dad is different than any other similarly-themed movies.

Eugenio Derbez cast first-time child actress Loreto Peralta as his daughter in INSTRUCTIONS NOT INCLUDED, the latest film with Eugenio Derbez who takes full control as writer, director and star. In a familiar plot, a bachelor is forced to grow up when an ex drops off an infant at his doorstep. He raises the little girl and moves to Hollywood in search of the mother that abandoned her. Years pass and the two bond until Maggie's mom shows up to claim his daughter.

Eugenio tells CineMovie's Fernando Esquivel that he knew the film's was not an original concept, but he threw in some twists and turns. The Mexican-native also touches on the differences between making a film in Hollywood versus Mexico.

The 9-year-old Loreto praises Derbez as a director and co-star. She adds it's a dream come true that she's been wanting to do since she was five. Of course, Derbez couldn't resist joking that she's been dreaming a long time.

Watch the interview.