Details

Category: Interviews
Created: Wednesday, 30 March 2016 17:38
Published: Wednesday, 30 March 2016 17:38
Written by Fred Topel
Rush Hour is the latest movie to inspire a new TV series. On CBS, "Rush Hour" stars John Foo and Justin Hires in the roles that made Jackie Chan and Chris Tucker a buddy cop duo. The pilot shows the new Det. Lee (Foo) coming to the States and reluctantly teaming up with Det. Carter (Hires), and agreeing to work together on future cases.
In the movies, fans had to wait 3-6 years for a new Rush Hour movie. On CBS they'll only have to wait one week. CineMovie got to talk with Justin Hires after the "Rush Hour" panel for the Television Critics Association. "Rush Hour" premieres March 31 at 10PM on CBS.
John Foo speaks better English than Jackie Chan does, so you can understand the words coming out of his mouth.
Exactly.
Were you disappointed you didn't get that famous line?
No, I was actually incredibly happy I didn't get that line because I already knew there was going to be comparisons between myself and Chris Tucker. I already knew the first episode was kind of a reboot of the first movie. So I was glad that any ways we could differ from them, I saw that as a positive for the show.
Did you end up doing chemistry reads with different actors?
Actually, John was cast first. I came around super last minute. I auditioned at the very last audition they were having for the show. He was already cast. I did my testing with him. So I went to Warner Brothers and he came into the room. I read with him. We had a great read together, kind of connected pretty instantly. Then after that, we had to wait on Peter Roth, the head of Warner Brothers Television to get there, so we went out into the lobby. We talked about family, his upbringing and my upbringing, what got us to this point. We went back in and Peter Roth was then there. We had built our chemistry even more so during that time, and everything went pretty well. We're here now.
In the movies, Chris Tucker ends up learning to fight sort of like Jackie. Do you end up picking up martial arts?
Ironically, I am a black belt in Karate in real life which is random and crazy. On the show, I'm kind of more the brawler. I use my hands more so. However, second season, if we get one hopefully, I do want to incorporate more kicking and martial arts into my fight sequences. Basically, being inspired and taught from the Detective Lee character.
Does any of your standup persona apply to Carter?
I mean, it's not a far stretch between who I am and who Detective Carter is. We both crack jokes. Honestly, I don't really have even a standup persona. When I do my standup it's me. It's Justin Hires. I'm going out there, talking about my life and the things that I'm going through. Detective Carter wasn't a far stretch. When I'm joking around, I am loud. I do talk fast. I do crack jokes. It's not a far stretch.
What is your material about?
Oh man, trust me, there's going to be a lot of Rush Hour material. Basically, I talk about whatever I'm experiencing. When I did 21 Jump Street, I had a bunch of jokes about 21 Jump Street. When my daughter was born, I had a lot of jokes about my daughter. All of those things, whatever I'm experiencing, I incorporate all that stuff, stories and things I'm going through in my life and incorporate all of that into my material.
Did you end up doing a ride-along with cops?
I did. You know the great thing about doing that ride-along, I gained such a tremendous respect for officers. As an African-American, you just see so many things in the media. Sometimes they're cast in a negative light but being on that ride-along and learning about what it takes to be a police officer and the things that they've experienced and what they've seen, and what is the reason why they take the precaution or the actions that they do take at times, it really put a lot of things in perspective. I got a huge deal of respect for those guys and what they do for us.
There's going to be a zoo chase. Did you come close to any animals?
No, we were at an abandoned zoo so no, there were no animals there, unfortunately. I really wanted to see some monkeys, but no.
Are you involved in the fight on the bus?
I am involved. He does a lot of the fighting. Then I come around with my gun and I tighten up the rest of the scene. But you know what's so great about this? I do a lot of fight scenes on this show. I wasn't even expecting or anticipating to do a lot of fight scenes on the show. I just assumed John was going to be doing most of the fighting. What happened was I did my first fight scene too well. [Laughs] Then they said, "Give Justin more fight scenes." So I brawl on the show. I would say I do about 80% of my own stunts on the show, but I have a blast doing it.
I was worried they do Rush Hour on television and it's a comedy but they wouldn't be able to do the action. So it sounds like they do a lot?
Fortunately, with this show, it's an action comedy. I have no idea how we shoot this show in eight days. We shoot fast. We're starting to pick up our rhythm when it comes to shooting but it's a lot. It took three and a half weeks to shoot the pilot so I didn't know how we were going to manage to shoot this show in eight days, but somehow, we have a great crew, we have great preproduction and they get it together. We're there to do our job and luckily it's coming out looking pretty good.
How much time do you have to do those fight scenes in the zoo and on the bus?
You get a few takes every angle. They do the wide shot, the medium shot, the closeups.
So less than a day?
Oh yeah, less than a day. Half of a day because like you said, we still have to get to the talking parts. We have to get to the cases and all the stuff like that. We don't have much time to do it, but luckily John Foo is an incredible martial artist. He picks up on the choreography and helps with adding stuff to the choreography, so he's able to do that really well so we can get through those takes and get onto the next scenes.
What are some of the cases coming up after the pilot?
The episodes I enjoy the most are the ones that feel like mini movies. There's a scene where Page Kennedy's character Gerald gets in trouble with the law. He's tied to a murder that's going down. So we're trying to clear his name and get him out of prison. so that's one of the storylines. The Quantao is this Asian gang we have. They keep showing back up. They actually play a huge part throughout the whole series. Those are some of the more exciting shows, especially for the Detective Lee character.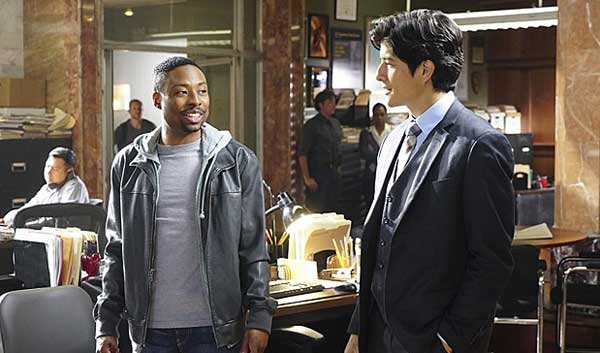 Where were you when you saw the movie Rush Hour in 1998?
I know exactly where I was at for Rush Hour 2. My ex-girlfriend stood me up. She was supposed to meet me at the theater to see Rush Hour 2 and she stood me up. I'll never forget it. So I had to go see that movie by myself. Luckily, the girl I sat next to, I ran into one of my school classmates that was also there, so I sat with her and her family so I didn't feel like a loser. So I know exactly where I was at for Rush Hour 2.
Did you ever play standup clubs with Chris Tucker?
No, I'll tell you what though. Ironically, I was performing at The Comedy Store one night. I was doing my set. Chris Tucker came in. He sat in the audience. I stopped my set. Luckily, I was having an amazing set. I'm talking about I was really killing it. Okay, anyway, I was having a good set. I stopped my set and I told him, "I love you. You're literally one of the reasons I got into standup comedy. This is true." From the back, all you heard was, "I love you too, man." So that made my night.
Who were your other comedy role models?
Eddie Murphy. I think he's the king. Chris Rock when it comes to standup. Chris Tucker, Martin Lawrence, Marlon Wayans, Jim Carrey. All those guys. Steve Martin, Bill Murray. I am a comedy nerd so I watch all of those guys and try to learn things from all of them. Jerry Lewis. I love all those guys.