Details

Category: Interviews
Created: Monday, 10 June 2013 15:07
Published: Monday, 10 June 2013 15:07
Written by Lupe Haas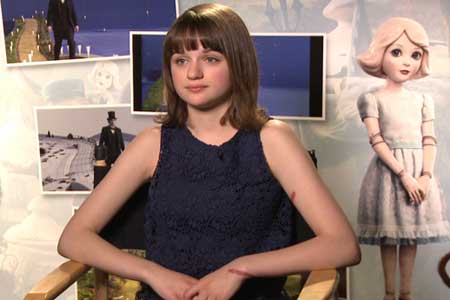 Thirteen year-old actress Joey King has already worked with the likes of Ryan Gosling, Steve Carell, Channing Tatum, and Selena Gomez. The actress can be currently be seen and heard alongside James Franco and Zach Braff in the home release of OZ: THE GREAT AND POWERFUL June 11th.

Joey King voices the character of China Girl, a porcelain doll in Sam Raimi's OZ: THE GREAT AND POWERFUL. Joey King talks to CineMovie about becoming good friends with THE OZ co-stars and what it was like working on such a special effects-heavy film with director Sam Raimi. The young actress says the two actors teased her on set, but they quickly became good friends during production. Joey supported James Franco recently when he received a Hollywood Walk of Fame star in front of the El Capitan theater.

For Joey, OZ: THE GREAT AND POWERFUL was a different experience for the actress who has voiced animated characters before (Ice Age: Dawn of the Dinosaurs, Horton Hears a Who!). For Sam Raimi's adaptation of the prequel to Wizard of Oz, Joey not only voiced China Girl in a sound booth, but was brought on set to read her lines along with James Franco and Zach Braff. While she would've loved being on set with the two, she was nearby in a booth acting out the script in a booth. She explains that in order to be on set voicing the character, she would've had to be in a blue suit that would later be edited out. However, she managed to hide behind scenery to get a glimpse of the other actors on the stage.

Joey King is a busy teen actress next appearing with Channing Tatum in the action-thriller White House Down, and Patrick Wilson and Vera Farmiga in the horror thriller The Conjuring.

OZ: THE GREAT AND POWERFUL is available on DVD, Blu-ray, Digital, and On-Demand, June 11, 2013.