Details

Category: Interviews
Created: Monday, 30 September 2019 00:28
Published: Monday, 30 September 2019 11:18
Written by Lupe R Haas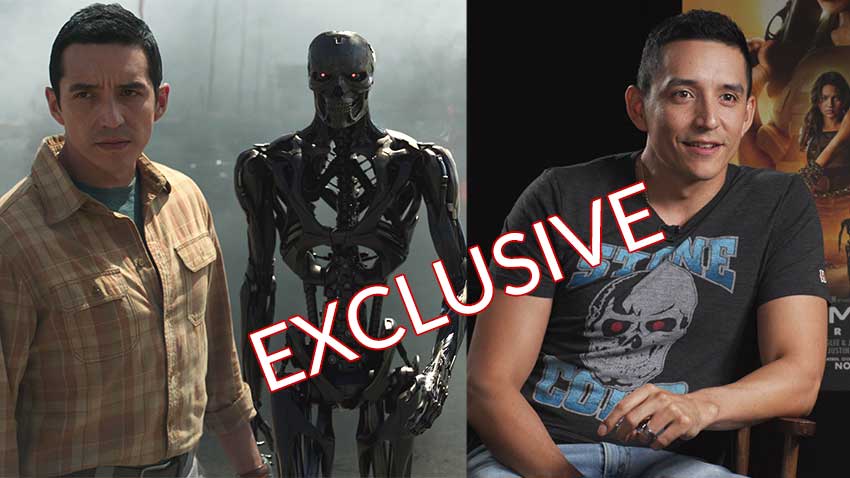 A new TERMINATOR: DARK FATE clip revealed the Rev 9 Terminator model has some special abilities that make him indestructible. We sat down with that Terminator played by Gabriel Luna and his target Natalia Reyes about the new abilities. Watch the interview below.
TERMINATOR: DARK FATE doesn't open until November 1, but we're getting clues about the new movie in the TERMINATOR franchise. At the Lattitude Conference in San Diego, CA this weekend. TERMINATOR: DARK FATE stars Gabriel Luna and Natalia Reyes spoke at a panel for the movie, and Paramount Pictures screened a never-before-seen clip and other footage not seen before. Watch special extended look shown at the event below.
Exclusive Interview: 'Terminator: Dark Fate' Director Tim Miller Was Terrified Of Two Scenes
In the first clip, the Terminator played by Luna is able to separate himself from the endoskeleton. In footage revealed in prior trailers, the Rev 9 model is able to melt and reform on the hood of the big rig after Mackenzie Davis stabs him with a barbed iron bar, but what they didn't reveal is the endoskeleton behind the wheel still driving the big rig. We see the two autonomous Terminator units which means there's more Terminators than originally believed.
In other footage shown, we get more of backstory about the intended target, Dani Ramos played by Reyes. While we don't get the reason she is being hunted by the Terminator, we see the Rev9 show up at her door in Mexico. Dani narrates throughout the footage. This special footage will be released to the public Monday morning.