Details

Category: Interviews
Created: Friday, 31 May 2013 22:23
Published: Friday, 31 May 2013 22:23
Written by Ethan Falk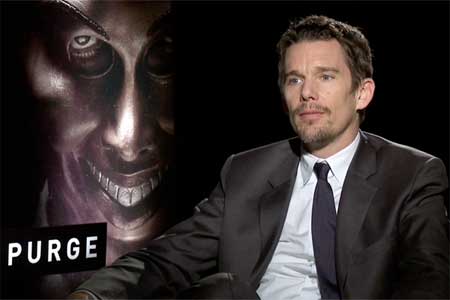 THE PURGE is the latest entry in horror movies involving a family in peril. THE PURGE star Ethan Hawke and producer Jason Blum tell CineMovie why families in danger make for good thrillers.

Ethan Hawke left his mark on the horror genre last year with Sinister, and now he takes another voyage with producer Jason Blum on the home-invasion thriller/horror, THE PURGE. The film introduces us to a near-future, dystopian society in which the government has sanctioned an annual night of murder and crime to cleanse the nation of its violence for the rest of the year.

THE PURGE Movie Poster and Trailer

The film makes us ask ourselves how far we would go to keep our families safe. Cinemovie had the pleasure of sitting down with Ethan and Jason at a recent press event to talk about the controversial plot and why families in peril make for great suspense films. Super-genre producer, Jason Blum, has had plenty of experience dishing out micro-budget horror films for wide release; a la the Paranormal Activity franchise. He tells Cinemovie that the key to good suspense and horror is dependent on creating situations that are relatable, then throwing a wrench in it and watching how people respond to it. He believes that the most honest responses you get to watch are in people's most private and vulnerable environments.
"When you're threatened in the place you feel safest, it makes for the scariest situations."
THE PURGE kicks off yet another movie for Ethan Hawke this year. The busy actor added that its every parent's worst nightmare to have to protect their children from violence. He says that nightmares are a strange thing because sometimes our worst fears become something we enjoy thinking about.
"It's some kind of fantasy people play out. What would I do to protect my children? You watch it play out. I'm petrified by such a thing. I don't like thinking about it."

After filming Sinister, Blum encouraged his longtime friend Hawke to read the script for THE PURGE. As a child, Hawke was a huge fan of genre films. His first director Joe Dante (Gremlins, Piranha) gave him a greater understanding of what was possible with a genre film. He taught him that a good genre movie is mainly really scary and a fun thing to see on a Friday night, but also contains a subterranean political message. This is
why Hawke thought THE PURGE was the perfect project to embark on. THE PURGE confronts many socio-political issues including the hot topic of gun violence in America. Ethan briefly touched on it.

"In America, there's a kind of knee jerk response that more walls and more guns make people safer, I'm not entirely suspect to that way of thinking."

Hawke finds it terrifying that if you study the history of mankind, there has just been a litany of murder and violence. The actor tells Cinemovie that "violence exists and is a real part of our lives. We are obsessed with things that scare us…One of the things that scare us is violence, but it certainly does not define us."

Luckily for all of us THE PURGE is only a movie but you do ask yourself - what would you do in that situation?

THE PURGE hits theatres June 7th.