Details

Category: New Reviews
Created: Thursday, 22 March 2018 19:47
Published: Tuesday, 27 March 2018 18:49
Written by Lupe R Haas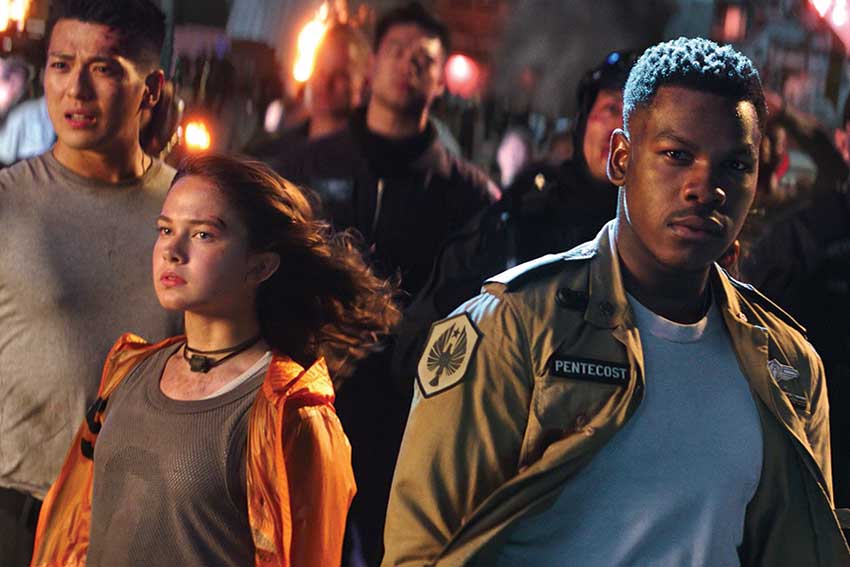 PACIFIC RIM: UPRISING is a totally different movie from PACIFIC RIM. Guillermo del Toro's PACIFIC RIM payed homage to classic Japanese Kaiju movies while PACIFIC RIM: UPRISING is going for the TRANSFORMERS feel but albeit with a better story and a few surprising twists. While it's basically another Hollywood action movie, it has something different going for it. The women are strong participants and are treated equally as the male characters.
PACIFIC RIM: UPRISING is geared towards a much younger audience with a group of teen rangers training to be Jaeger pilots. While John Boyega leads the charge, it definitely caters to a much younger demographic who will really enjoy all the robot action.
The action is on par with the TRANSFORMER movies, and better than the original. PACIFIC RIM suffered from too many fights between the Jaegers and Kaiju in dark sequences with most action sequences taking place at night time or underwater, making it hard to see detail. In UPRISING, there are no fights in the dark, and great detail is seen in every shot especially the Jaeger on Jaeger fight sequence.
Except for Boyega's, Pentecost and Cailee Spaeny's Amara, the supporting cast are underdeveloped. The good news at least is that women share equal time on screen with a few women in power alongside up-and-coming female rangers. In the original, only Rinko Kikuchi represented the XY gene pool. There was a minor role with stereotypical female Russian pilot, who got some screen time but with no backstory.
Part of the enjoyment of PACIFIC RIM: UPRISING were the women. Kikuchi's Mako Mori reprises her role as Mako Mori, and she's in a position of power. So is Chinese actress Tian Jing (THE GREAT WALL, KONG: SKULL ISLAND) who runs a tight ship as the owner of a corporation upgrading Jaegers as pilot-less fighting machines. Cailee Spaeny is the young Amara who along with Boyega command the screen. Latina actress Adria Arjona is similarly a bad ass as a Jaeger mechanic although they put her in a love triangle with Boyega and Scott Eastwood's characters. That we could've done without. However, it's too bad Arjona was underutilized in the movie.
The PACIFIC RIM sequel has a few suprising twists that make the film worth watching, and not just another retread.
In short, PACIFIC RIM: UPRISING feels like a totally different film than PACIFIC RIM. For some, that may be a good thing but for others, they may be disappointed as too kid-friendly.