Details

Published: Tuesday, 08 November 2022 09:00
Written by Lupe R Haas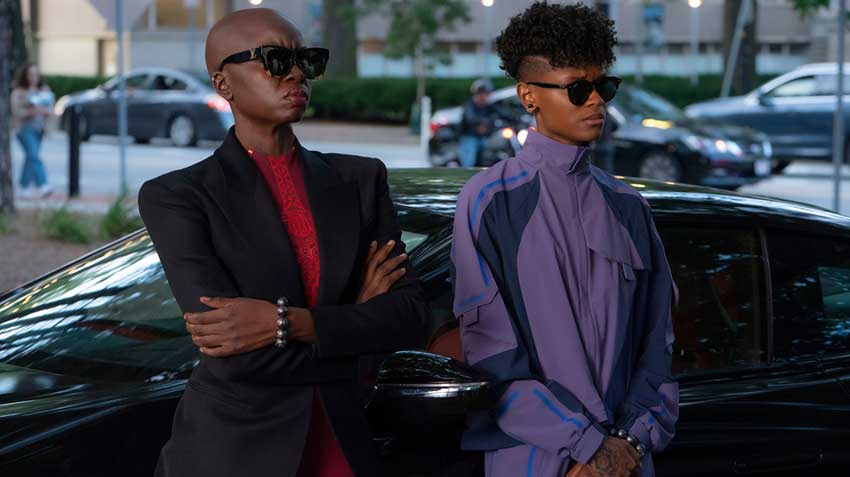 Chadwick Boseman is smiling down at Ryan Coogler and his cast mates for delivering a heartfelt and action-packed follow-up in BLACK PANTHER: WAKANDA FOREVER. The sequel honors Chadwick Boseman and respectfully hands down the baton to the next in line. It's a thoughtful script, and like the first movie, Coogler interweaves superheroism with social commentary.
It's no secret who the next Black Panther is you've studied the trailer and new Black Panther suit. For this purpose, we'll keep it spoiler free.
Chadwick Boseman sadly passed away in 2020 of colon cancer, and it just didn't seem possible that the BLACK PANTHER mantle could be passed on so shortly after his tragic loss. However, WAKANDA FOREVER introduces a new protector and ruler of Wakanda who earns the title and new suit while honoring the past.
Watch: Danai Gurira talks Okoye's journey in BLACK PANTHER sequel
BLACK PANTHER: WAKANDA FOREVER handles T'Challa's death beautifully without overdoing it, and in a quick fashion. All the characters go through an emotional journey of grieving his absence. Do bring tissues for the moment at the start of the film that will catch you by surprise.
T'Challa's death is worked into the story brilliantly by Coogler and co-writer Joe Robert Cole. His passing will have dire consequences for Wakanda as the world now sees the vibranium-rich country without protection. Namor and the Talokan aren't the only ones salivating for Wakanda's resources.
Coogler doesn't dwell on the grief and delivers an action-packed movie with double the action sequences from its predecessor. Comedy is very present and provides lighter moments of levity.
In BLACK PANTHER, T'Challa was surrounded by intelligent and fierce women. Here they take center stage with Angela Bassett's Queen Ramonda and Letitia Wright's Princess Shuri bringing an emotional depth to their roles. Shuri was a fan favorite, and here Wright steps up as the lead in a very satisfying way. She's still the fun-loving scientist but the actress shows us a different side to Shuri that will further endear you to the character.
Danai Gurira's Okoye will also be going through some changes, and her warrior character shows an emotional side behind that fierceness.
The new characters complement the returning cast. Tenoch Huerta is a formidable antagonist as Namor and his Talokan civilization are the equivalent of Wakanda but for Latin America. The Mexican actor brings gravitas to Namor, and while he's an antagonist, he's a very layered character. Huerta was a standout in Narcos: Mexico so it's no surprise that he excels in this complicated role.
You have to love Ryan Coogler for being a very thoughtful filmmaker. The fictional ocean dwellers are based on the ancient Mayan ancestors, and Coogler brings the same respect and honor to this new civilization, something we rarely see in a big-budget Hollywood film.
Viewers are also introduced to a new Marvel superhero, Ironheart played by Dominique Thorne who will be reprising the role for a Disney+ series. She's a great addition as an equivalent to Shuri. She's a highly-intelligent MIT student who creates an Iron Man-like suit. Dominque and Letiticia make a great duo, and both female characters are allowed to shine rather than highlighting one over the other.
Like the first BLACK PANTHER, the story is ripe with real-life social implications. Isolationism was part of the theme in the first movie, and at the end we see T'Challa opening Wakanda to the outside world. In the sequel, there are consequences for that decision. The seeds are clearly planted for a third BLACK PANTHER movie.
Watch: Producer Nate Moore Confirms BLACK PANTHER 3
The post-credit scene also lays the groundwork for the future. The whole movie maps out what's to come in the next installment.
BLACK PANTHER: WAKANDA FOREVER is in movie theaters on November 11.