Details

Published: Thursday, 24 June 2021 21:16
Written by Lupe R Haas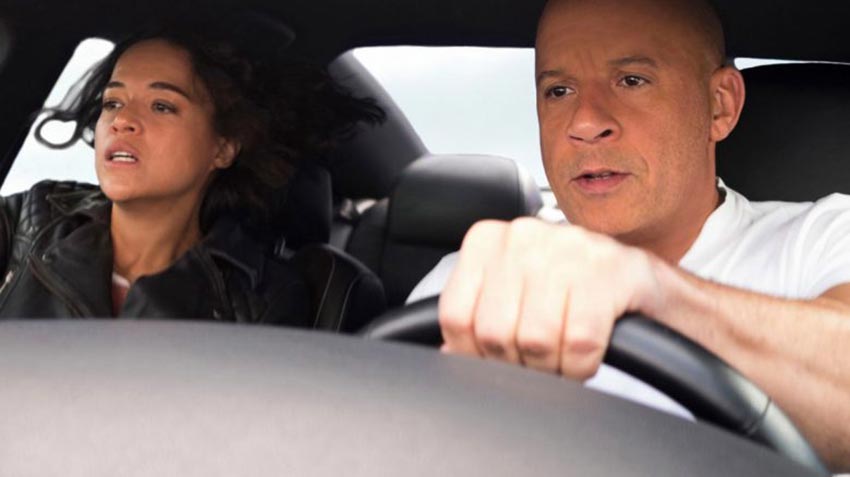 What started out as a street-racing/heist movie has become something entirely different. The stunts grow increasingly more ludicrous and comical with every movie. There's plenty of laughter throughout the movie, but is the audience laughing with them or at them?
The crew comes out of hiding to investigate a mysterious plane crash that freed Cipher (Charlize Theron), and Dom's estranged brother Jakob (John Cena) has something to do with it.
When THE FAST AND THE FURIOUS debuted in 2011, it was hailed as original and reflective of urban America. The opening heist sequence of a semi-truck introduced these street daredevils. Something as simple as driving street racing vehicles under semi-trucks was super exhilarating to watch. It was raw and practical. You really did feel the need for speed. By the time the seventh film rolled around in 2015, the franchise had lost its touch with reality.
Fast forward 20 years later, and the FURIOUS movies are either trying to be MISSION IMPOSSIBLE or an AVENGER movie. In F9, we find ourselves watching a car jetted into space with questionable gear and rockets built in someone's backyard. Michele Rodriguez's Letty flies out a second-story window while riding on someone and lands in a superhero pose as if she were Black Widow. Vin Diesel's Dom tumbles inside a metal death trap as it rolls down a canyon, but he escapes the metal carnage, sticking his landing like an Avenger. The car stunts defy physics and logic. For example, two sports cars featured in the bottom image stop a massive tanker in its tracks. In real life, that vehicle would've devoured those cars.
What also came to mind while watching F9, was how much it really wanted to be a MISSION IMPOSSIBLE movie. The former street hustlers now fancy themselves spies working for a secret agency with access to fancy gadgets, high-caliber weapons, military planes, and planning their next mission in a top-secret, high-tech lair.
After the last Tom Cruise MISSION IMPOSSIBLE movie, there was online chatter about Cruise going into space. Well, the FAST AND FURIOUS franchise beat Cruise to it. Many of Vin Diesel's stunts also seem to copy Cruise's action sequences from the M.I. films like jumping off a tall building to another or stumbling around a large moving vehicle before it crashes and burns.
Justin Lin returns to direct his fifth FAST AND FURIOUS movie, and as the co-writer, he's self-aware and recognizes the absurdity of the stunts and character's invincibility in the script. Throughout the movie, Roman (Tyrese Gibson) questions their ability to survive the death-defying action and proclaims they may be superheroes. Tej (Ludacris) and Ramsey (Nathalie Emmanuel) chime in as well, which often make for some of the funniest moments in F9. The trio was an enjoyable watch, and they deserve a franchise of their own.
What was more interesting than the eye-rolling action sequences were the low-key moments in the flashback to Dom and Jakob's teenage years. Actor Vinnie Bennett (GHOST IN THE SHELL) plays an effective young Dom while Finn Cole (Animal Kingdom) is young Jakob, and. Mayans MC star JD Pardo plays daddy Toretto, a race car driver. Bennett and Cole certainly have the chemistry, and you're certainly more interested in that odd family dynamic more so than the other main storyline. Vin Diesel teased the idea of a Toretto prequel, and if it stars those three actors, it might just work if set on the speedway.
Cardi B's cameo is wasted. Han's (Sung Kang) resurrection is explained in one line without showing how they pulled off that magic trick, which felt like a cop-out. Charlize Theron spends the entire time mean-mugging the camera and talking a good game but hardly plays with the big boys except for one scene albeit one of the best action sequences. While Jordana Brewster returns full-time, they didn't give her much to do except one or two kick-ass scenes, and she was left out of the familiar reunion. John Cena's Jakob barely acknowledges his sister when he first sees her, and her character is left out of the Toretto family history.
There's no doubt you'll have a good laugh watching some of the ridiculous moments, and sharing them in a dark room with a bunch of strangers, just make sure to check your critical thinking skills at the door.