Details

Published: Thursday, 22 July 2021 00:05
Written by Lupe R Haas
Whether you like or dislike SNAKE EYES: G.I. JOE ORIGINS may depend on how invested you are in the GI JOE characters prior to watching the origins story starring Henry Golding. SNAKE EYES is gorgeously shot with stunning-looking locations and dazzling action sequences that showcase the actual actors performing the majority of the martial arts sequences.
The G.I. JOE spin-off centers around the character of Snake Eyes played by Golding (CRAZY RICH ASIANS), and his history with Storm Shadow (Andrew Koji from Warrior) but Storm is referred to as Thomas in the film. Úrsula Corberó (Money Heist) also stars as the Baroness, Samara Weaving (READY OR NOT) is Scarlett, along with Haruka Abe, Takehiro Hira, Peter Mensah, and Iko Uwais.
As with most superhero characters, Snake Eyes is an orphan and a lost soul who is taken in by Storm Shadow's clan, the Arashikage in Japan to learn the ways of the ninja arts. An opposing clan is looking to take power from the Arashikage, and Snake Eyes joins forces against a common enemy.
In the cinematic G.I. JOE universe, Storm Shadow and Snake Eye's rivalry was one of the most interesting aspects because of the mysterious bond between the two that prevented each side from taking each other's life.
SNAKE EYES: G.I. JOE ORIGINS traces that friendship to its start. However, the film goes even further back to Snake Eye's childhood when he becomes orphaned.
Directed by Robert Schwentke (RED, R.I.P.D.) and written by Evan Spiliotopoulos (THE HUNTSMAN, 2017's BEAUTY AND THE BEAST), the story takes liberties and moves away from the comic book origin story. In the Marvel comics, the history between the two began in Vietnam when Snake Eyes saved Storm Shadow in combat, and Storm owes him his life.
To bring it into modern times, the story foregoes the war scenario, and instead, the two future rivals meet outside a military setting. For comic book fans, the cinematic choices in SNAKE EYES may not be to their liking, but the scenes leading up to their friendship were original and unexpected.
Henry Golding is a rising star. You can't keep your eyes off Golding whose humor as Snake Eyes makes him all the more endearing and riveting. Golding manages to avoid the usual trappings of an action star as cocky. He's confident about his skills but he's not precocious or a reluctant hero.
Koji is a nice contrast to Golding with his demeanor. Koji and Golding have great chemistry, and you're rooting for the duo to stay friends as long as possible instead of their eventual fate.
Haruka Abe stands out as Akiko whose female character has equal footing with the male leads. Don't expect too much screen time for the Baroness and Scarlett but when they're on screen, they kick ass. While she's relegated to a cameo role, Money Heist break-out star Ursula Corbero is deliciously bad as the Cobra villain. Samara Weaving was a bit underwhelming as Scarlett but she did have some killer moves.
Meet 'Snake Eyes' Ninja: Actress Haruka Abe
SNAKE EYES is beautifully shot with exotic locations in ancient temples which contrast to the bright neon lights of downtown Tokyo. There's an element of old and modern that reinforces the ancient traditions they speak of in the movie.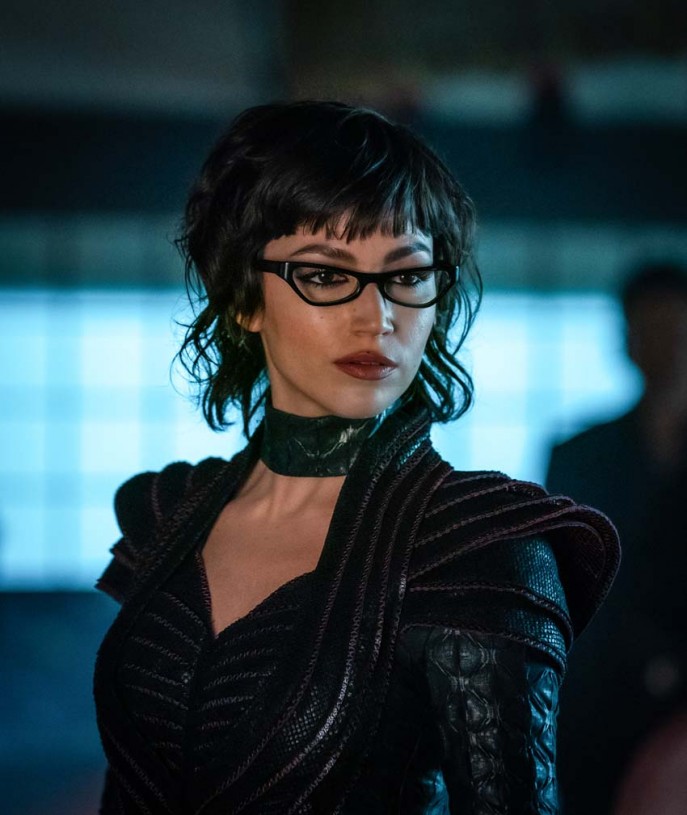 The action in both settings is equally stunning. One scene has Snake Eyes, Thomas, and Akiko seeking out an enemy clan in a Tokyo alley. Fighting sequences take place in tight spaces in the alleyway and on top of buildings with neon signs in the background which made for one of the coolest action pieces in the movie.
The G.I. Joe organization and the evil Cobra names are thrown around when the Baroness and Scarlett show up, but it's kept in the background so as not to distract from the main storyline between Thomas and Snake.
I had the opportunity to watch SNAKE EYES on a true IMAX screen at the IMAX headquarters in Marina del Rey, CA. While IMAX is an awesome movie-going experience, if you don't sit at the very top you don't get the full eye-level action. The film looked beautiful on the massive screen, but I often find that fast action sequences cause motion blur which triggers motion sickness - a similar issue you find in 3D. There were two incidents in this movie which were slight, but I find it happens in other movies as well so it's not unique to SNAKE EYES.
For non-fans of the franchise, SNAKE EYES: G.I. JOE ORIGINS is easy to follow, and may find it enjoyable. Judging by the Twitter reactions from the Hasbro fans, the spin-off doesn't seem to satisfy their expectations..
SNAKE EYES: G.I. JOE ORIGINS hits theaters July 23.