Details

Last Updated: Tuesday, 12 November 2013 06:28
Written by Lupe Haas
Showing the male genitalia for laughs in mainstream movies is quickly becoming the norm since Sacha Baron Cohen first shocked movie audiences in 2006 with his naked romp in Borat: Cultural Learnings of America for Make Benefit of Kazakhstan. In 2009, Cohen again flashed an extreme close-up of his manly parts in Bruno. That same year, Ken Jeoung ran around fully naked in The Hangover which became the sleeper hit of the summer. Most recently, kings of raunchy comedy Peter and Bobby Farrelly jumped on the band wagon in last year's Hall Pass starring Owen Wilson, Jason Sudeikis and Christina Applegate, but with less than funny results. The scene seemed gratuitous and an obvious attempt to be raunchy, just for the sake of doing it but it didn't move the story along.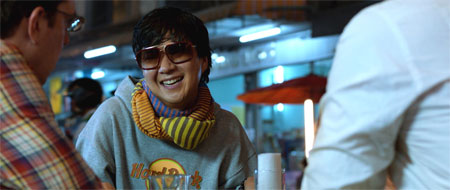 In THE HANGOVER PART II, the full frontal nudity advances the story and the raunchy humor started in the first film. Audiences roar with laughter and shock during the scene as Ed Helm's Stu realizes he's hit rock bottom. Known for his raunchy buddy comedies, director Todd Phillips said recently at a Beverly Hills press conference with the Hangover actors, that he doesn't think Part II was raunchier than the first one and he has come to learn what audiences are willing to bare for laughs.
"It's not so much raunchier. It's very clear to me, this is my 7th movie, so I kind of know what the line is with the MPAA and even with audiences, where you can kind of push it and what not to," said the director of Road Trip and Old School (Will Farrell).

Ed Helms jumped into the conversation, "we put things in because they're too raunchy."
The Hangover director also added that nothing was cut "because it was too raunchy" so don't expect "a bunch of raunchier stuff" as deleted scenes for the extras on the DVD and Blu-ray release.
If THE HANGOVER PART II proves a hit with audiences this summer, expect a third Hangover movie, according to Philipps, who originally imagined the movie as part of a trilogy. He promises it will be a much different "template" to end the series. That may be true, but we can expect more of the same in the raunch department.

THE HANGOVER PART is now playing in movie theaters.