Details

Category: Interviews
Created: Friday, 11 January 2013 08:28
Published: Friday, 11 January 2013 08:28
Written by Lupe Haas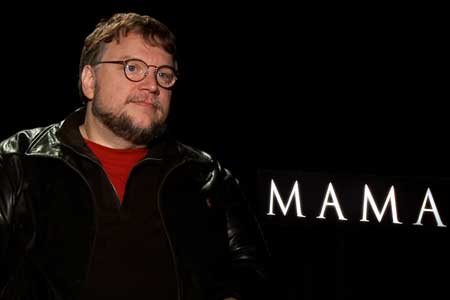 Director/producer Guillermo del Toro finds new filmmakers and helps them break in to the business. He tells CineMovie he regularly asks his protégés to repay the favor to another newbie.

CineMovie sat down with the Hellboy and Pacific Rim director for a one-on-one interview for his upcoming film MAMA. Del Toro executive produces MAMA from new director Andres Muschietti who came to Del Toro's attention with his short by the same name. The Mexican director took Muschietti under his wing and helped him adapt the horror thriller for Hollywood starring Jessica Chastain and Nikolaj Coster-Waldau.

The Mexican director previously helped director Juan Antonio Bayona similarly with the Spanish film The Orphanage in 2007. Juan Antonio Bayona is currently garnering acclaim for The Impossible starring Naomi Watts and Ewan McGregor, the true story of one family's ordeal during the catastrophic tsunami. In the video, Del Toro explains that when he produces a new filmmaker, he asks them to "produce a first-time filmmaker" in return. He jokes Bayona still owes him the favor of producing a new filmmaker under his wing.

Del Toro made the same request with MAMA filmmaker Andres Muschietti. "Andy now owes me one," Del Toro says. He gave his reasoning behind his requests to up-and-coming directors.
"I think it's very important for whoever who is making movies to help people that want to make.. that are coming up. Because when I was coming up, it was difficult to get support. And I think its important to pay if forward, if you would."
Andres Muschietti who studied in Spain and hails from Argentina is one of the growing number of Spanish filmmakers making the transition to Hollywood with a horror film. Many Spanish horror films hae also been adapted into English versions. What is about the Spaniards and their mastering of the genre? According to the producer, director, and writer, the Spanish generation are well-versed in the genre.
"They are very aware of the mechanisms of fear. They are very aware of the tradition of horror film making. And they are very articulate about it. They are a very good generation."
Next, Guillermo del Toro helps another rising director make his first feature-length film based on a short entitled Alma by Rodrigo Blaas. As a director, Del Toro helms one of the most anticipated 2013 summer releases, Pacific Rim.
MAMA scares up the thrills starting January 18, 2013.