Details

Created: Thursday, 22 August 2013 15:34
Published: Thursday, 22 August 2013 15:34

Spike Lee believed in Lucy Malloy's Cuban drama that he offered to present the film and mentor the British-born director throughout the filmmaking process. The first-time filmmaker behind UNA NOCHE tells CineMovie it was not an easy process especially when it came to shooting in Cuba.

Lucy Malloy met Spike Lee during her studies at NYU and he eventually became Malloy's mentor. The Malcolm X and Do The Right Thing director helped Malloy with script development and through the various editing sessions, according to the NYU alumni. During CineMovie's one-on-one interview with the British-born filmmaker, she said of the auteur. "He's very supportive of young filmmakers."

UNA NOCHE takes place in Havana, Cuba and centers on the relationship between a brother and sister. When Elio decides to migrate to Cuba with his best friend Raul, he is torn between love for his sister and his desire to start a new life in America.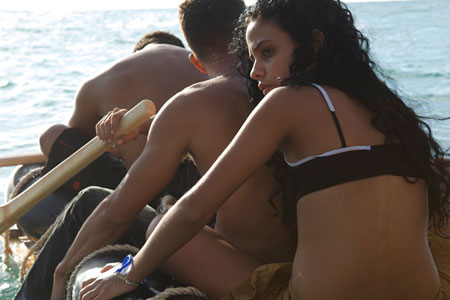 Lucy Malloy was inspired to make the film from her time in Cuba after graduating. While there she learned Spanish, Taekwondo and studied the culture. She found Havana visually compelling with its 50s feel, but she saw people "hungering for new things." "It's a collision of different worlds," says the first-time filmmaker. Inspired by what she saw, she wrote a short film, which eventually became the feature length UNA NOCHE.

Shooting in Cuba would be Malloy's greatest hurdle, but she had an advantage. Having a British passport made things slightly easier since she's excluded from the American embargo against Cuba. Embarking on her first feature film in Cuba also gave her an advantage, according to Malloy.
"We were kind of young and naïve at that, but it carried us a long way."

Determined to make UNA NOCHE in Cuba, nothing was going to stop them but it would be a long journey. Luckily for the production, she met a Cuban official from the Asociacion de Audiovisual who opened the doors for them to shoot in Havana without having to go through the Cuban Film Institute. UNA NOCHE was produced 'very independently," which Malloy is proud of.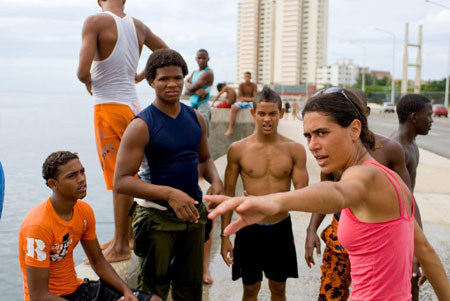 Finding the actors would be the next challenge and casting took months searching for the right individuals to play Raul, Lila and Elio. Malloy and her crew flyered at high schools, beaches, teen hangouts and acting schools. After months of open auditions, they found non-actors Dariel Arrechaga, Anailin de la Rua de la Torre and Javier Nunez Florian.
In true independent filmmaking, the UNA NOCHE production next had to wait for the 35mm cameras to become available from the States. Once they obtained the cameras, the rolls of film were brought in with each trip to the mainland and back. Once filming began, they encountered various variables such as hurricanes, storms and electrical cuts, which are common in the Communist country. However, those setbacks caused them to rely on their resourcefulness and creativity, for which Malloy is proud of.
UNA NOCHE opens in select Los Angeles movie theaters September 6, but will also be available on Video on Demand (VOD) August 26. Releasing films on VOD simultaneously with the theatrical run is not something everyone agrees on including the UNA NOCHE director.
"As a filmmaker, I spend a lot of energy and a lot of heartache making it on 35mm, and I really love the way that looks and to see it in a cinema is incredible. You get all the amazing colors, rich images and you really enter that world. You get that full experience so you feel like you're taken to Havana."
Malloy admits she's one to watch movies on her laptop and occasionally on an iPhone, but in her own words, she "laments the loss of quality." On the other hand, she's content that more people can have access to a film like hers and the video age has become a sort of "democracy in film." "It's go its ups and downs," she adds.