Win It!
Details

Category: Contests
Published: Monday, 03 March 2014 08:46
Written by Lupe R Haas
CineMovie has your NEED FOR SPEED fix with an advance screening of the DreamWorks film starring Breaking Bad's Aaron Paul. Read on to find out how to enter the NEED FOR SPEED ticket giveaway in 12 cities nationwide before the release on March 14.
DreamWorks Pictures' NEED FOR SPEED marks an exciting return to the great car culture films of the 1960s and '70s, when the authenticity of the world brought a new level of intensity to the action on-screen. Tapping into what makes the American myth of the open road so appealing, the story chronicles a near-impossible cross-country journey for our heroes — one that begins as a mission for revenge, but proves to be one of redemption. Based on the most successful racing video game franchise ever with over 140 million copies sold, "Need for Speed" captures the freedom and excitement of the game in a real-world setting, while bringing to life the passion for the road that has made our love of cars so timeless.
The film centers around Tobey Marshall (Aaron Paul), a blue-collar mechanic who races muscle cars on the side in an unsanctioned street-racing circuit. Struggling to keep his family-owned garage afloat, he reluctantly partners with the wealthy and arrogant ex-NASCAR driver Dino Brewster (Dominic Cooper). But just as a major sale to car broker Julia Bonet (Imogen Poots) looks like it will save Tobey's shop, a disastrous race allows Dino to frame Tobey for a crime he didn't commit, and sending Tobey to prison while Dino expands his business out west.
Two years later, Tobey is released and set on revenge — but he knows his only chance to take down his rival Dino is to defeat him in the high-stakes race known as De Leon — the Super Bowl of underground racing. However to get there in time, Tobey will have to run a high-octane, action-packed gauntlet that includes dodging pursuing cops coast-to-coast as well as contending with a dangerous bounty Dino has put out on his car. With the help of his loyal crew and the surprisingly resourceful Julia, Tobey defies odds at every turn and proves that even in the flashy world of exotic supercars, the underdog can still finish first. Watch Trailer
Website: Theneedforspeedmovie.com
Like on Facebook: Facebook.com/needforspeed
Follow on Twitter: Twitter.com: @NeedforSpeed
To enter the NEED FOR SPEED Movie Ticket Giveaway, click on the Entry Form below.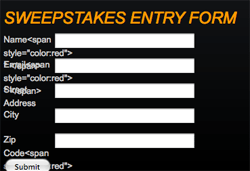 NO PURCHASE NECESSARY.
PROMOTION DESCRIPTION: NEED FOR SPEED Giveaway ("Sweepstakes") begins on or about March 2, 2014 2013 at 6:00 p.m. Eastern Time ("ET") and ends on March 12, 2014 at 11:59 p.m. ET (the "Sweepstakes Period"). At the end of the Sweepstakes Period, a random drawing will be conducted to select winners from among all eligible entries received, as more fully set forth in the OFFICIAL RULES. Entry in the Sweepstakes does not constitute entry into any other promotion, contest or sweepstakes. By participating in the Sweepstakes, each entrant unconditionally accepts and agrees to comply with and abide by these Official Rules and the decisions of CineMovie TV, 2700 Arlington Ave. Ste. 101 Torrance, CA 90501 ("Sponsor"), which shall be final and binding in all respects.
No one will be admitted late. This ticket may be used for admission only by the person to whom we issued it; it is not transferable. It has no cash value. The screening will be monitored for unauthorized recording. By attending, you agree not to bring any video or audio recording devices (including, without limitation, cameras) into the venue and you consent to a physical search of your belongings and person for recording devices. If you attempt to enter with a recording device, you will be denied admission. If you attempt to use a recording device during this screening, you consent to your immediate removal from the venue and forfeiture of your recording device and its contents. Any attempted unauthorized recording will be reported to law enforcement and may subject you to criminal and civil liability. We reserve the right to pursue any and all available remedies at law and in equity for any unauthorized recording and/or copyright infringement, including without limitation statutory damages of up to $150,000 per violation, and nothing contained in this notice shall be construed to limit our available remedies and/or legal recourse. You assume all risks of personal injury arising from or incidental to attending the screening, whether occurring prior to, during, or after the event.