Details

Category: Interviews
Published: Wednesday, 19 December 2018 15:35
Written by Lupe Rodriguez Haas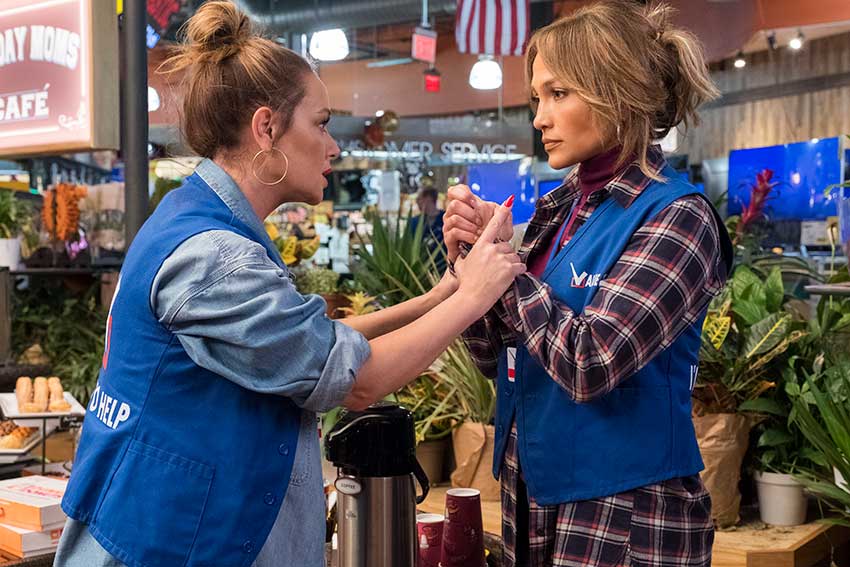 Real-life besties Jennifer Lopez and Leah Remini play best friends in the new comedy, SECOND ACT directed by veteran director Peter Segal (TOMMY BOY, THE LONGEST HARD). The actresses' hilarious on screen relationship is certainly the highlight of the film, and the director reveals that behind the scenes the two have a similar routine as did his TOMMY BOY stars David Spade and the late Chris Farley.
Jennifer Lopez plays Maya in SECOND ACT, a big box store worker who reinvents herself as a corporate honcho on Madison Avenue and she must use her street smarts to outsmart her college educated colleagues. Joan (Remini) is Maya's closest friend and biggest cheerleader.
Initially, Remini wasn't keen on starring in a film since she prefers television work but when your best friend asks you can't say no. Segal suggested to Remini she take on more film work because she's a natural comedian. Hopefully she takes the advise.
Director Peter Segal tells CineMovie the movie captures that dynamic of the real-life BFFs. "The chemistry is real because they're best pals," says Segal. In one scene, Joan is giving Maya a pep talk when Remini improvised a slap to her co-star. It caught Lopez off guard says the director, but she dished it right back. The SECOND ACT helmer describes Remini as Lopez's cheerleader, and that relationship reminded him of another famous duo.
"It reminds me a little bit of a Spade and Farley in TOMMY BOY. They would have their routines at the "Saturday Night Live" offices and then we kind of wrote them down and put them into TOMMY BOY. And likewise, these guys had routines off camera where I guess Leah would pump up Jennifer before she went out on stage to perform in Vegas or wherever; 'who's the champion? You're the champ!' But then on the day on the movie, suddenly it escalated to face slapping and then Jen, after a couple of slabs from Leah to Jen, Jen popped her hard and she was not expecting it and one time way too hard but the one that wound up in the movie was just shy of the way too hard and it was just hilarious."
Segal fondly remembers Chris Farley who passed away 21 years ago this week from a drug overdose. "He was literally the funniest guy I think I'd ever met," Segal recalls of his TOMMY BOY star. In 2019, TOMMY BOY will celebrate its 25th anniversary and the city of Sandusky in Ohio, where the film is set, invited the director to celebrate. However, Segal had to break it to them that the film was shot in Toronto. The city would still like to honor him so he's still invited, according to the filmmaker.
Unlike TOMMY BOY, SECOND ACT was shot entirely in New York City and the boroughs where the film takes place. It's a rarity these days when a film is shot in the actual city because of high costs. It was a dream come true for the native New Yorker.
"We were all over. It was to me a bucket list thing because I was born and raised in New York and we always have to, you know, shoot, we can ever afford to shoot an entire movie in New York and this is the lowest budget movie I've ever done. And suddenly we could afford to shoot in New York. I didn't quite understand how or why, but we shot the whole thing during the fall, during Christmas season, literally this time last year."
Unfortunately the paparazzi, tourists and residents didn't make it easy on the production starring Jennifer Lopez. Segal jokes there was a lot of begging the onlookers to move on but you can't compete with 10,000 cell phones.
"It was challenging too because at any day of shooting, especially when you're walking around with Jennifer Lopez looking spectacular in these outfits, there's 10,000 cell phones that come out and ruin your shot."
Ultimately, the spectators were digitally removed.
SECOND ACT has a lot of blockbuster competition this holiday season when it opens December 21 opposite BUMBLEE, MARY POPPINS RETURNS, AQUAMAN and a few Oscar contenders, but he's hoping the movie will be counterprogramming to the bigger fare.
"I'm hoping that this year, even though there's a lot of big blockbusters for guys out there that we can also provide something to an underserved audience."
Catch SECOND ACT in movie theaters December 21.