Details

Category: Interviews
Published: Monday, 29 August 2011 08:36
Written by Lupe Haas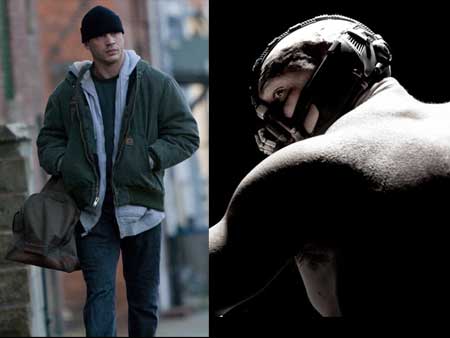 Tom Hardy may be playing a tough angry UFC-style fighter in the Warrior and the villainous Bane in The Dark Knight Rises, but Tom Hardy the person is a sensitive type who "cries" after negative criticisms.
LISTEN TO INTERVIEW BELOW
Tom Hardy was only joking when he said he "cries" after reading online comments at a recent press event in Los Angeles, but in all seriousness, he does take the negative feedback to heart. Against his friends advice, Tom Hardy reads online complaints regarding his role as Bane in the upcoming Christopher Nolan's The Dark Knight Rises.
"I do read comments and I cry. I can't cry for everybody."

The Warrior star told CineMovie, the Batman fans would've liked the onscreen Bane to be 400 pounds like the comic book character, but it seemed like an impossible feat for the English actor; "I'm like Dude!"

Before taking on the role of Bane in the Christopher Nolan Batman movie, Tom Hardy put his body through a 12-hour rigorous training regimen for Warrior as did his co-star Joel Edgerton. To become the ex-Marine Tommy Conlon in the inspirational action drama directed by Gavin O'Connor, Tom put on muscle that put him at 179 pounds. Afterwards, he increased his body mass and is now at his heaviest at 190 pounds for The Dark Knight Rises.

Hardy understands the fans love for their superhero icon and that whoever steps into any role related to that will be scrutinized.

"So many people love him. And when you step into that role - you are going to fail. And be judged."

Hardy deals with it by "switching off" but he says he is human and its hard to ignore the blogosphere. Ultimately, his job is to be the "best person" he can be in bringing this revered character to life on screen. Fans eventually will have to put their trust in him as an actor and in director Christopher Nolan.

"Just trust me. I trust Nolan.

Warrior is in movie theaters September 9, 2011 and and The Dark Knight Rises hits the big screen on July 20, 2012.