Coming Soon
Details

Category: Movie News
Published: Monday, 03 April 2023 16:12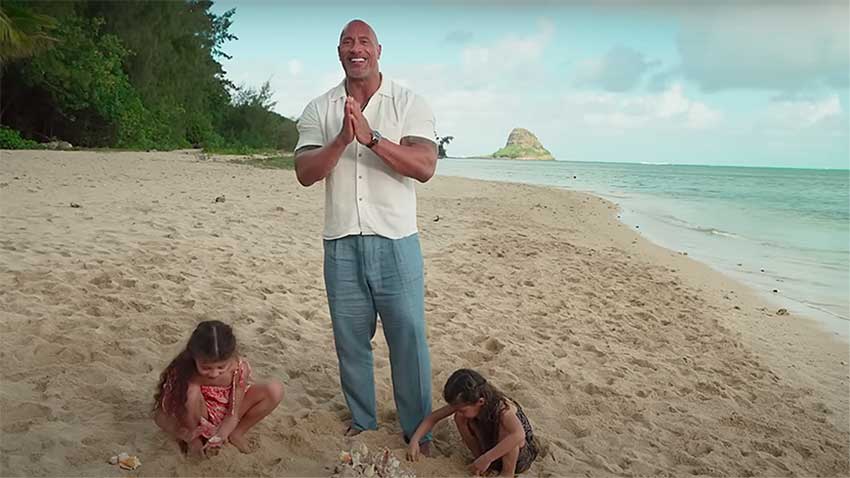 Disney's 2016 film MOANA will be adapted into a live-action version with Dwayne Johnson reprising his role as Maui along with Moana voice actress Auli'i Cravalho. Johnson made the announcement on location in Hawaii with his two precious young daughters.
In a recorded message from the beautiful beaches of Oahu, Johnson announced the live-action adaptation is in development. Johnson's Seven Bucks Production will produce the films along with Cravalho also serving as an executive producer. The move is unprecedented for a new iteration of a movie released seven years ago. However, Johnson can be very persuasive as a business man so no doubt he approached Disney for the idea, and Bob Iger agreed.
Johnson also threw in a mention of the beloved rooster Heihei who will make the jump to the live-action version.
See the full Disney press release below.
Dwayne Johnson revealed today in a recorded message from Hawaii that a live-action reimagining of Disney Animation's 2016 hit feature film "Moana" is in development. The announcement was shared by Chief Executive Officer Bob Iger during The Walt Disney Company's Meeting of Shareholders Webcast.

The new feature film is produced by Johnson, Dany Garcia and Hiram Garcia via their Seven Bucks Productions and Beau Flynn via Flynn Picture Co. Executive producers include Auli'i Cravalho, who voiced Moana in the 2016 film, and Scott Sheldon of Flynn Picture Co. Jared Bush and Samoan industry pro Dana Ledoux Miller will also take part in the production. Bush, who was a director and co-writer of Disney's Oscar®-winning feature "Encanto" and a writer and co-director on Disney's Oscar®-winning film "Zootopia," wrote the screenplay for 2016's "Moana."

Like its animated predecessor, the film will celebrate the islands, communities and traditions of Pacific Islanders as seen through the eyes of a young woman eager to pave her own path. Moana's journey of self-discovery and reflection on the lives of her ancestors won hearts worldwide, as did her newfound friendship with an exiled demigod named Maui.

Johnson, who plans to return to the fictional world to set sail with Moana, said, "I'm deeply humbled and overcome with gratitude to bring the beautiful story of Moana to the live-action big screen. This story is my culture, and this story is emblematic of our people's grace and warrior strength. I wear this culture proudly on my skin and in my soul, and this once-in-a-lifetime opportunity to reunite with Maui, inspired by the mana and spirit of my late grandfather, High Chief Peter Maivia, is one that runs very deep for me. I want to thank my partners at Disney for their strong commitment to this special endeavor, because there is no better world for us to honor the story of our people, our passion and our purpose than through the realm of music and dance, which is at the core of who we are as Polynesian people."

Native Hawaiian actor Cravalho, who helped shape Moana in the original film, said the beloved protagonist's reach is sweeping. "She has had such a profound impact on how we think of Disney princesses," Cravalho said. "Moana's strength and perseverance are inspiring—to audiences around the world, to me and to everyone who helped bring her to life. I'm looking forward to sharing her story in a whole new way."

Sean Bailey, president of Walt Disney Studios Motion Picture Production (Disney Live Action), said the film would join a successful lineup of live-action adaptations that include 2017's "Beauty and the Beast," 2019's "Aladdin" and the highly anticipated live-action version of "The Little Mermaid," opening May 26. "It's still early, but the idea of working with these fantastic partners to tell such a meaningful story on a live-action canvas, particularly as we celebrate 100 years of storytelling at Disney, is thrilling," said Bailey.

Walt Disney Animation Studios' "Moana" debuted in theaters on Nov. 23, 2016, grossing nearly $644 million in global box office. The title, which debuted on Disney+ with the streamer's 2019 launch, is among the top 15 movies streamed in the United States in 2022. The film's soundtrack, written by Lin-Manuel Miranda, Opetaia Foa'i and Mark Mancina, was lauded worldwide. Miranda won a GRAMMY® for best song written for visual media ("How Far I'll Go"), and an Oscar® nomination for best achievement in music written for motion pictures – original song ("How Far I'll Go"). In 2021, the "Moana" soundtrack broke a Billboard Soundtrack chart record for the amount of time spent at number one (52 weeks). Additionally, the film was nominated for an Academy Award (best animated feature film of the year), a BAFTA (be