Details

Last Updated: Wednesday, 21 May 2014 22:50
Written by Lupe R Haas
An expert in metal couture, corsetry, and leather, Manuel Albarran has worked with Beyonce, Madonna, Vogue, Georgia May Jagger, Givenchy and stage shows. He can now add Angelina Jolie to his roster of clients, but he tells CineMovie, Maleficent is his first film as a designer. "I'm used to doing fashion, not movies" he said of his first cinematic experience which required many modifications to his designs so that Jolie could perform the action. In fashion, the stiff and heavy pieces are modeled off with little motion so he definitely had to adapt to the world of movie magic.
Albarran was tasked with creating the jewelry, collars, shoulder pieces and spines. He used different leathers, feathers and animal skin and bones to create the look while also using metals such as gold, grass, copper, precious stones and crystals. However, the materials are not lightweight so producing his designs didn't come easy.
In the production of the pieces, it was one of the most difficult things I had to face in the movie. Designing the pieces was okay and I really enjoyed it, but the technical part was really complicated. It looks great, but you have to make it work for all the designs."
Adapting the designs for Jolie's flying and fighting scenes were perhaps the most time consuming, he adds. Albarran worked closely with Angelina Jolie with numerous fittings and meetings with the MALEFICENT star to come up with the right look and making it work for her physical scenes.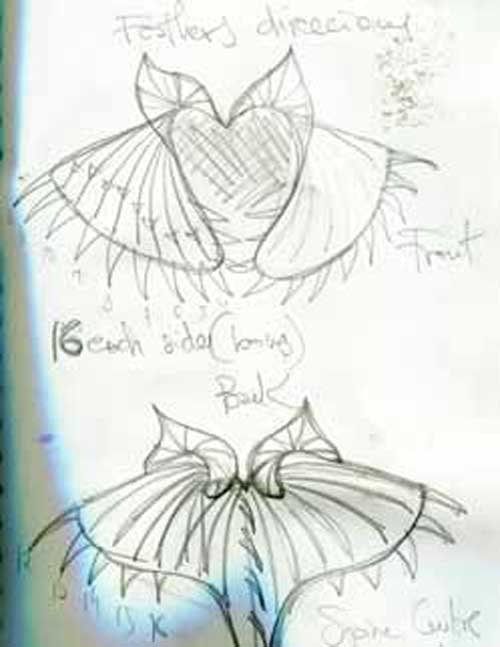 The most difficult piece that Albarran was tasked with was a full-body suit that Jolie wears in the climatic battle scene with King Stefan. "The leather piece was a cast so it was a complicated scene to do, but in the end we did it" he says. "Technically, we had to work on that scene a lot".
The body suit is a spectacular sight to watch in the final battle of the movie and you wonder how Jolie could possibly move in that skin-tight body suit, but Albarran spent many sleepless nights figuring it out. "This one was the one I really had to think about to make it work, according to Albarran. So he went through different samples until he found what would make the outfit work for mobility, weight and balance.
Manuel Albarran's magnificent work on MALEFICENT can be marveled at on screen when the retelling of the Sleeping Beauty fairytale hits theaters May 30, 2014.