Coming Soon
Details

Category: Coming Soon
Published: Tuesday, 06 November 2012 16:14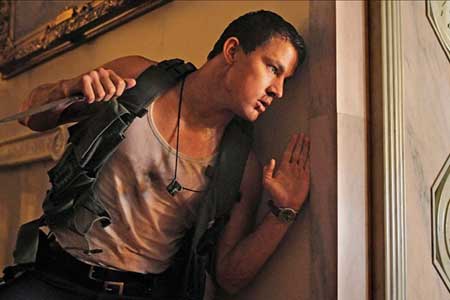 There is no question Channing Tatum is on a roll. With three hits this past year, 2013 is looking like Tatum's year once again. Three new previews hit the web this week alone with a new G.I Joe: Retaliation trailer, Side Effects trailer, and White House Down images.

After becoming a bankable movie star with The Vow (Rachel McAdams), and starring & producing 21 Jump Street and Magic Mike, Channing Tatum is definitely a bona fide movie actor. In 2013, Tatum goes for action-packed with his return as a GI Joe, as a Secret Service agent defending U.S. President Jamie Foxx in White House Down, and finally an average Joe in Steven Soderbergh's Side Effects.

Earlier this week, a second trailer version for GI Joe: Retaliation premiered online, followed by the first look at White House Down, and then the first trailer to Side Effects.

While most speculated that pushing G.I Joe: Retaliation to 2013 was to allow for additional footage featuring Tatum, trailer #2 doesn't prove that theory. Tatum is still assumed dead after the attack as there is no site of him for the rest of the preview. Instead the old-timers Dwayne Johnson and Bruce Willis take over the GI Joe fighting duties on March 29, 2013. Watch trailer below.

In Roland Emmerich's White House Down, Tatum stars alongside Jamie Foxx, Maggie Gyllenhaal, and James Woods. New images were released this week showcasing Tatum's skills as a Secret Service agent protecting the United States president (Jamie Foxx) after the White House is overtaken by a paramilitary group. Given its from the director of 2012, The Day After Tomorrow, and Independence Day, expect lots of spectacle when it opens June 28, 2013. (Image above)

Lastly, Channing Tatum reunites with Steven Soderbergh for a third time in Side Effects, a thriller starring Girl with the Dragon Tattoo star Rooney Mara, Jude Law, and Catherine Zeta-Jones. As the title suggests, this precautionary tale of the dangers of prescription drugs is brought to us by the same writer of Contagion, Scott Z. Burns. Side Effects opens February 8, 2013. Watch trailer below.

Tatum also has Foxcatcher slated for 2013 in the true story of John DuPont (Steve Carell) who murdered Olympic wrestler David Schultz (Tatum).