Coming Soon
Details

Category: Coming Soon
Published: Sunday, 11 August 2013 15:17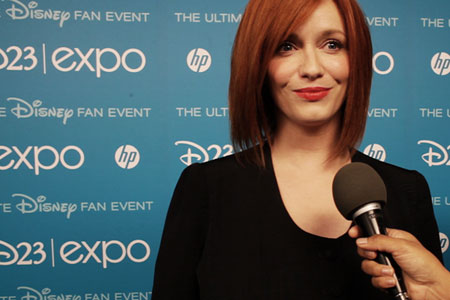 "Mad Men's" Christina Hendricks joins the Disney family as the new Disney fairy in Disneytoon Studios "The Pirate Fairy" and she's giving us the scoop on her new gig as the voice of Zarina, Tinker Bell's new pixie friend.

During the Disney fan expo at D23 Friday, Disneytoon Studios spread some pixie dust with an announcement that two A-listers are voicing characters in the "The Pirate Fairy," the new movie from the Disney Fairies franchise. Christina Hendricks was introduced at the Friday event by director Peggy Holmes ("Secret of the Wings") as the new Disney fairy Zarina while Thor and Avengers' Tom HIddleston joins the cast as a young James aka Captain Hook. "The Pirate Fairy" flies into theaters Spring of 2014.

Christina Hendricks talked to CineMovie on the red carpet after the announcement about joining the Disney family and her approach to acting with her voice for the first time. She's also revealing the plot of "The Pirate Fairy" in which Tinker Bell and her friends are transported to the pirate world after Zarina takes the magic Blue Pixie Dust and joins the pirate crew.

Official "The Pirate Fairy" Movie Synopsis:

When a misunderstood dust-keeper fairy named Zarina steals Pixie Hollow's all-important Blue Pixie Dust, and flies away to join forces with the pirates of Skull Rock, Tinker Bell and her fairy friends must embark on the adventure of a lifetime to return it to its rightful place. However, in the midst of their pursuit of Zarina, Tink's world is turned upside down. She and her friends find that their respective talents have been switched and they have to race against time to retrieve the Blue Pixie Dust and return home to save Pixie Hollow. With comedy, heart and epic thrills for the whole family, "The Pirate Fairy" sets sail Spring 2014.