Coming Soon
Details

Category: Coming Soon
Published: Wednesday, 28 August 2013 23:28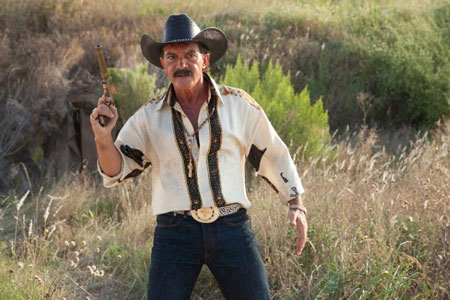 Antonio Banderas is looking like he can join Los Tucanes del Norte for his latest role in MACHETE KILLS. Pictured in his boots, cowboy hat, big buckle and his pistola, Antonio Banderas is ready for a kill in the new Robert Rodriguez film.
Antonio Banderas plays Gregorio Cortez in MACHETE KILLS, one of Mel Gibson's assassins sent to stop Machete from ruining his evil plan. The Spaniard has played el Mariachi and Pancho Villa so he's no stranger to portraying Mexicans.
Machete (Danny Trejo) is back for more mayhem in MACHETE KILLS starting October 11 and starring Michelle Rodriguez, Jessica Alba, and new to the cast Mel Gibson, Sofia Vergara, Amber Heard (The Rum Diary), Charlie Sheen, Alexa Vega, Antonio Banderas, Cuba Gooding Jr., Demian Bichir and Lady Gaga.
More about MACHETE KILLS
In MACHETE KILLS, Danny Trejo returns as ex-Federale agent MACHETE, who is recruited by the President of the United States for a mission which would be impossible for any mortal man - he must take down a madman revolutionary and an eccentric billionaire arms dealer who have hatched aplan to spread war and anarchy across the planet.

From a screenplay by Kyle Ward and based on a story by Marcel Rodriguez and Robert Rodriguez, MACHETE KILLS is the sequel to the 2010 hit film MACHETE - which has built a devoted legion of fans since its release -
and is the second film in a trilogy.
RELATED ARTICLES
MACHETE KILLS New Movie Poster
Danny Trejo's Key To Hollywood Success: 'Don't Argue With The Director'
Danny Trejo Picks His Death Race Car and Name (Video)
Danny Trejo and Robert Rodriguez Talk Machete Sequel