Coming Soon
Details

Category: Coming Soon
Published: Thursday, 28 February 2013 15:28
Guy Pearce is making quite a comeback in blockbuster movies and now he's gracing one of the IRON MAN 3 character movie posters as Aldrich Killian.

Guy Pearce plays Aldrich Killian, a geneticist from the comic book series that created the Extremis technology, a military tool that allows nanotechnology to become part of human DNA. Of course, Killian goes to the dark side in the series. We can only assume judging from the trailer, the lab rat will play a part in the destruction of Iron Man/Tony Stark with help from Ben Kingsley's the Mandarin.

Guy Pearce stayed clear of big-budgeted films until last year when he came out with guns blazing in Lockout, then starred under heavy old-man prosthetics as Peter Weyland in Ridley Scott's Prometheus. We're glad he's back on the big screen in a high-profile films and can't wait to see him as a baddie in IRON MAN 3 opening May 3, 2013.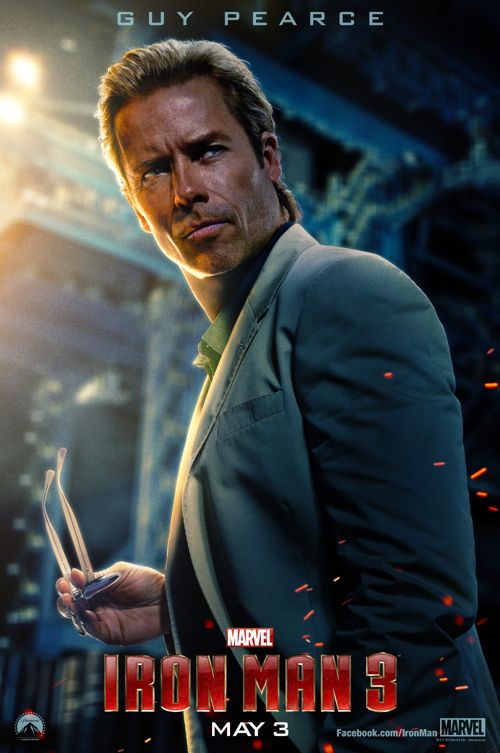 Official Synopsis:
Marvel's "Iron Man 3" pits brash-but-brilliant industrialist Tony Stark/Iron Man against an enemy whose reach knows no bounds. When Stark finds his personal world destroyed at his enemy's hands, he embarks on a harrowing quest to find those responsible. This journey, at every turn, will test his mettle. With his back against the wall, Stark is left to survive by his own devices, relying on his ingenuity and instincts to protect those closest to him. As he fights his way back, Stark discovers the answer to the question that has secretly haunted him: does the man make the suit or does the suit make the man?
Starring Robert Downey Jr., Gwyneth Paltrow, Don Cheadle, Guy Pearce, Rebecca Hall, Stephanie Szostak, James Badge Dale with Jon Favreau and Ben Kingsley, Marvel's "Iron Man 3" is directed by Shane Black from a screenplay by Drew Pearce & Shane Black and is based on Marvel's iconic Super Hero Iron Man, who first appeared on the pages of "Tales of Suspense" (#39) in 1963 and had his solo comic book debut with "The Invincible Iron Man" (#1) in May of 1968.
"Iron by "Iron Man 3" is presented by Marvel Studios in association with Paramount Pictures and DMG Entertainment. Marvel Studios' President Kevin Feige is producing and Jon Favreau, Louis D'Esposito, Charles Newirth, Victoria Alonso, Stephen Broussard, Alan Fine, Stan Lee and Dan Mintz are executive producers. The film releases May 3, 2013, and is distributed by Walt Disney Studios Motion Pictures.
Visit: http://marvel.com/ironman3
Like: https://www.facebook.com/ironman
Follow: https://twitter.com/Iron_Man