Coming Soon
Details

Category: Coming Soon
Published: Tuesday, 13 August 2013 23:07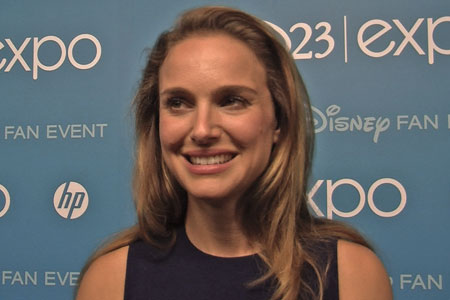 Natalie Portman returns as Thor's love interest in THOR: THE DARK WORLD, but is her character Jane simply an object of affection or does she kick some alien butt in this sequel? Check out what she told us back at D23 along with director Alan Taylor.

CineMovie caught up with the THOR: THE DARK WORLD star and director Alan Taylor after Marvel Studios presentation of new footage at Disney's fan event D23 August 10th. In the Marvel sequel starring Chris Hemsworth, Anthony Hopkins and Tom Hiddleston, Portman's Jane Foster is transported to Asgard after a new villain plans on targeting Thor's earthling love interest.

CineMovie wants to see Padmé get in on the action in the sequel, but the actress tells CineMovie she's a mere mortal among super heroes in this Marvel follow-up.
"My character is much more sheltered because she's a mere human in Asgard where they are all superheroes. So they sort of put her to the side while they do the butt-kicking."

THOR: THE DARK WORLD director Alan Taylor had a different idea of her character than simply being a damsel in distress.
"Natalie is incredibly smart performer and woman…she can't be reduced to a damsel of distress or an object at risk. She's got too much intelligence and spirit for that. That characterizes Jane at well."

The newcomer to the franchise also adds that her character is central to the action, plot, and crisis.

Natalie for one felt right at home for the second story in the Thor legacy, while the Game of Thrones director came into the project as a stranger among the Marvel Universe.

When it came to challenges, there were many, according to the former television director but he's especially feeling the pressure after Comic Con. He realized after that annual event that the fan base are heavily invested in this franchise and he hopes that the sequel will not let them down. The challenge in making the film was "giving them what they know and love from the Marvel Universe. "

When asked if Natalie would move on to the Avengers sequel, she simply said no.

THOR: THE DARK WORLD is in movie theaters November 8, 2013.