Details

Category: Interviews
Created: Friday, 14 August 2020 15:47
Published: Friday, 14 August 2020 15:59
Written by Lupe R Haas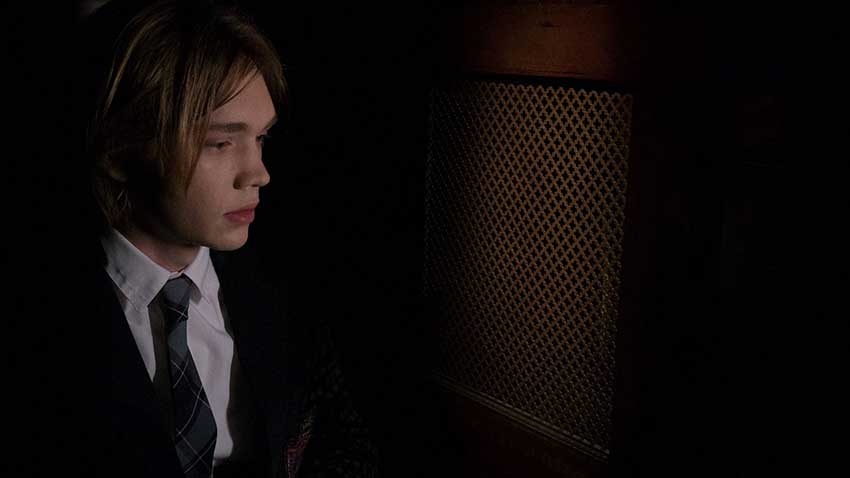 Charlie Plummer gives an outstanding performance as a schizophrenic teen in WORDS ON BATHROOM WALLS. The young actor lost the role of SPIDER-MAN to Tom Holland, but everything happens for a reason, and perhaps his path was a different one. No doubt this breakthrough role will propel him into stardom, in additon to making him the next hot thing for young teens. Watch video below.
Plummer talked to CineMovie via Zoom about the responsiblity in playing someone with a mental condition, and how he approached it. He also discusses the time he was one of the final contenders for the Spider-Man role along with Tom Holland.
The young actor, 21, started out young in Hollywood with a role in "Boardwalk Empire," and he's already had notable roles in Ridley Scott's ALL THE MONEY IN THE WORLD, and earned critical acclaim for his lead role in Andrew Haigh's drama LEAN ON PETE, which garnered a Marcello Mastroianni Award for best emerging actor at the 74th Venice Film Festival in 2017. No doubt his gripping performance in WORDS ON BATHROOM WALLS will take him further up the Hollywood latter.
Directed by Thor Freudenthal and based on Julia Walton's novel of the same name, WORDS ON THE BATHROOM WALL takes you inside the mind of Adam (Plummer), a young teen battling schizophrenia. We see the different characters living in his head with actors playing the different personas (Lobo Sebastian, AnnaSophia Robb, Devon Bostick).
WORDS ON THE BATHROOM WALL also stars Andy Garcia, Taylor Russell, Molly Parker and Walton Goggins.
Official Movie Synopsis:
WORDS ON BATHROOM WALLS tells the story of Adam (Charlie Plummer), who appears to be your typical young adult – a little unkempt with raging hormones and excited about a future pursuing his dream of becoming a chef. Expelled halfway through his senior year, Adam is diagnosed with a mental illness that he keeps secret at his new school. Living in constant fear of being exposed, Adam finds a soulful, comforting connection in Maya (Taylor Russell), an outspoken and fiercely intelligent girl who inspires him to open his heart and not be defined by his condition. With the love and support of his newfound romance and family, Adam is hopeful for the very first time that he can see the light and triumph over the challenges that lie ahead. The film also stars Andy Garcia, AnnaSophia Robb, Beth Grant, Devon Bostick, Lobo Sebastian, with Molly Parker and Walton Goggins.
111 Minutes | Rated PG-13