Details

Category: Interviews
Created: Monday, 23 September 2013 12:48
Published: Monday, 23 September 2013 12:48
Written by Lupe Haas

If Anna Faris wrote the next sequel to CLOUDY WITH A CHANCE OF MEATBALLS, the animated world would be taken over by nachos, her favorite food of all-time.

Faris returns to voice the character of Sam Sparks in the follow-up film to CLOUDY WITH A CHANCE OF MEATBALLS. In the sequel, Flint Lockwood's food-making machine has evolved into something worse; it's transforming food into food-animal hybrids. The hilarious hybrid of food and animals includes Cheesespider, (cheeseburger, turned into a French fry-legged spider), Bananostrich (banana with ostrich legs), Flamangos (flamingo mangoes), tacodile, just to name a few.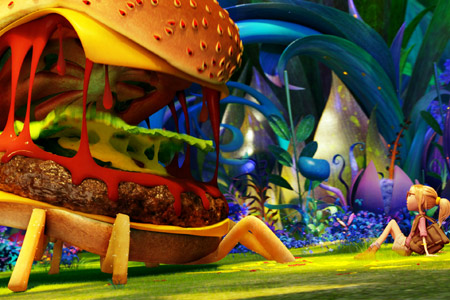 At the Los Angeles press conference for the film with stars Anna Faris, Bill Hader, Terry Crews, Andy Samberg and directors Cody Cameron and Kris Penn, the talk was all about food. Anna Faris admitted she's a nacho-holic when it comes to gorging on one food.

"I'm always craving food. Everyone here knows I'm a crazy fan of nachos. I'm always eating nachos, right guys?"

Her co-star Andy Samberg chimes in by calling her "Nacho Faris" and Hader adds she's "Nacho-Ordinary Faris." Samberg also pretended to be a journalist with a deep serious voice and asked her about a guilty pleasure, in which she replies, "donuts." We like that Anna Faris doesn't subscribe to the Hollywood diets.

Unfortunately for Faris, nachos are nowhere to be found in CLOUDY WITH A CHANCE OF MEATBALLS 2. Faris had her own idea for a food animal that the filmmakers shot down.

"I'm disappointed that we didn't use a corn-a-corn, which is of course a unicorn made out of corn. But apparently they only wanted REAL animals."
We would've loved to see that too. Bill Hader also wishes they would've included another food animal, but it's not exactly the answer you expect to hear from a Hollywood star, which sparked a hilarious exchange between the co-stars.
Hader: I like dogs. It's a food and animal. (Awkward pause from room.)

Samberg: That's wildly inappropriate for a children's film.

Hader: What are you talking about? You don't eat dog?

Samberg: I've eaten WITH my dogs.

Hader: I've eaten many dogs and their very delicious.


Of course, he's referring to the many variations of hot dogs… we hope.

When the conversation got back to Faris' idea of a unicorn made out of corn, Hader continued his shtick about eating beloved animals. "They probably taste good," he said in all seriousness in which Samberg replied, "They taste magical." "They're magically delicious," joked one of the CLOUDY WITH A CHANCE OF MEATBALLS 2 directors.

It's clear to say, the cast and filmmakers had a lot of fun with the subject matter and the film is equally as funny and entertaining. CLOUDY WITH A CHANCE OF MEATBALLS 2 opens September 27.