Details

Published: Friday, 09 November 2018 23:15
Written by Lupe Rodriguez Haas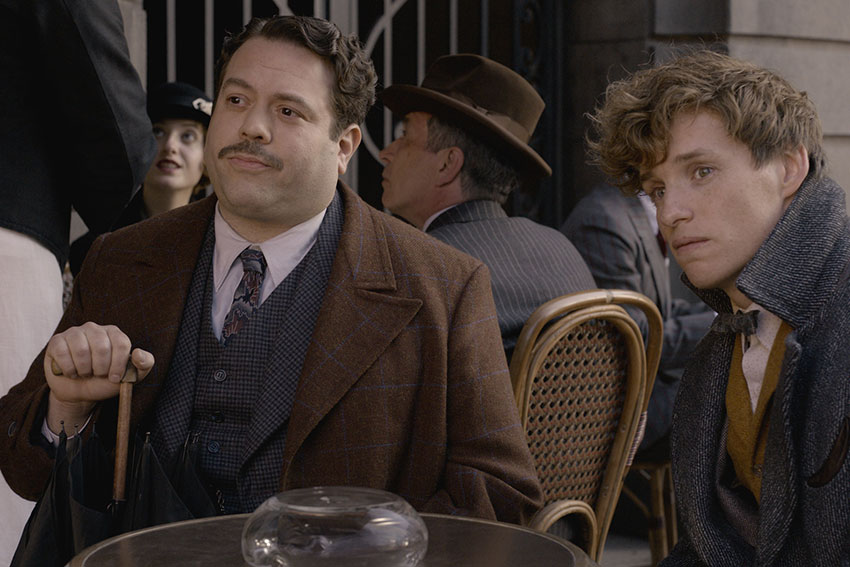 Dan Fogler has one request for J.K. Rowling for his character of Jacob in FANTASTIC BEASTS, and he's revealing when Dumbledore's army will go up against Grindelwald's army.
Dan Fogler returns as the lovable, funny muggle Jacob Kowalski in the sequel to FANTASTIC BEASTS AND WHERE TO FIND THEM (2016). CineMovie sat down with Dan to talk about the second of five films in the planned franchise and his wish list for his character.
As the only human with no magical abilities, Dan is feeling left out. He's hoping Rowling will make Jacob a wizard at some point, and he has the answer to how.
"I'm hoping that at some point he gets to. Well he's around all of the creatures, which is cool," he told CineMovie. "I think between that rubbing off on him from all the creatures and from the bite from the murtlap and whatever medicine Newt gave him from that first movie and whatever weird spells Queenie put on him... Like I feel like he's got some kind of.... It's going to awaken some kind of sleeping magic DNA in him or something."
FANTASTIC BEASTS: THE CRIMES OF GRINDELWALD is much darker than the first one but the lighter moments are provided by a lovelorn Jacob. "You can't help but sprinkle in some silliness, but some of those creatures are hysterical as well," he says.
The dark moments in the film come courtesy of Grindelwald's rhetoric to recruit wizards to his cause, and Fogler explains the connection to the past and the present.
"That's the darkest part of all of this. The fifth movie comes to a head where you have Grindelwald versus Dumbledore. The two armies collide. Grindelwald's story parallels the rise of Nazi Germany who are all about the "other" and the superior race and making the "other" the enemy. And it's really, really sad that there are a lot of themes that will resonate with people today and say, holy..., not much has changed. I think that she's (Rowling) a genius. She does that out of design to make people think. I think she's got excellent timing."
That is no accident on the part of JK Rowling who wrote the script. The Harry Potter author has been a critic of Donald Trump since the 2016 presidential elections. You can see how she's worked that into the story with Grindelwald representing that fear-mongering.
Another sad moment in CRIMES OF GRINDELWALD is Jacob and Queenie's heartbreak which magic can't fix.
"Love is the strongest, most powerful magic of all. So of course magic can't heal heartbreak."
However, he has ideas on how to win her back in the third installment of FANTASTIC BEASTS which is rumored to be set in Brazil. Rowling pretty much confirmed on Twitter that's the site of the next battle in the saga. Although the movies are shot entirely on a soundstage in London, the location gave him an idea in our funny exchange.
Dan: I hope I get to wear one of those stripy onesie bathing suit with a very curly mustache.

CineMovie: That's how you get Queenie back?

Dan: Exactly. She sees me. She's just like, oh, Jacob look at your ankles. I've never seen such ankles.
While he says he's not privy to what's coming next, he has a feeling where it will end up.
"I have a feeling the war is leading to... everyone's going to become the hero that is inside of them."
In that case, Jacob may pull out a trick of his own without the powers.
FANTASTIC BEASTS: THE CRIMES OF GRINDELWALD is in movie theaters November 19.