Details

Category: Interviews
Created: Wednesday, 06 February 2013 08:08
Published: Wednesday, 06 February 2013 08:08
Written by Lupe Haas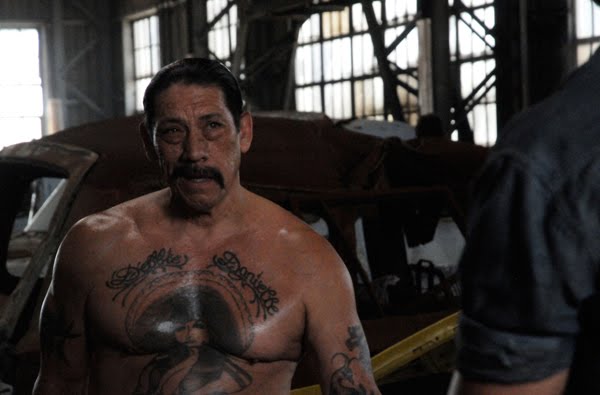 Danny Trejo has worked alongside Robert DeNiro and Al Pacino, appeared as a character actor in over 200 films, and is still going strong in Hollywood now as a leading man. So what's his key to staying in the game?

Danny Trejo fell into acting by accident in 1985. After serving time at San Quentin and making a clean break with his past through a rehabilitation center, a friend invited him on the Runaway Train set and the rest his history. Danny, a former lightweight and welterweight boxer, went on to appear in many films, unfortunately stereotyped as a convict (Con Air) or muscle man (Desperado) for the next couple of years.


Mainstream audiences got a taste of his lethal, tatted-up body when he appeared in Robert Rodriguez's Desperado (1995) as an assassin. That same year, he starred in Michael Mann's Heat with an all-star cast that included Robert DeNiro, Al Pacino, Val Kilmer, and Jon Voight. Then Robert Rodriguez's gave him his chance at leading man status with the cult hit Machete in 2011 which he'll be reprising in the sequel Machete Kills. That led to even more acting gigs and he's now got a busy 2013 with over a dozen projects.

Not too bad for a guy from Echo Park, CA with a troubled past. The 68-year-old sat down with CineMovie and explained his success can be attributed to being professional at all times and not arguing with the director.

"One of the keys to my success is showing up and knowing your lines, and not bumping into the furniture. I'm on time and I do what I gotta do."

Trejo adds he's really easy to work with and never argues with the director because the movie is on the helmer and not on him.

"I've watched a lot of actors argue with directors. I don't choose to. You're the director. It's your job. The movie is on you. It's not on me."

To top it off, the actor is not only professional, but the nicest person in Hollywood (sorry Tom Hanks).

You can catch Danny Trejo in Death Race 3, currently on DVD and Blu-ray, and in Machete Kills later this year.
RELATED ARTICLES
MACHETE KILLS New Movie Poster
Danny Trejo Picks His Death Race Car and Name (Video)
Robert Rodriguez's Word of Wisdom For New Filmmakers
VIDEO: MACHETE KILLS To Start Production in April
Danny Trejo and Robert Rodriguez Talk Machete Sequel