Details

Created: Tuesday, 15 April 2014 14:44
Published: Tuesday, 15 April 2014 14:54
Greg Kinnear has played a Kennedy, a lawyer, a juice bar owner and just about everything under the sun, but playing a small time preacher in HEAVEN IS FOR REAL made him feel vulnerable.
Since breaking into the scene on E's "The Talk Soup," Greg Kinnear has had a versatile acting career, even earning an Oscar nomination early on with a Best Supporting Role in As Good As It Gets. For his next project, Greg Kinnear takes on a true story playing a father and preacher who is faced with questioning his own faith when his son has an out of body experience in heaven. Based on the #1 New York Times best-selling novel, HEAVEN IS FOR REAL tells the story of the Burpo family and the little boy who recounts his visions of heaven in a near death experience. Kinnear plays the patriarch, Todd Burpo, a small-town business man, volunteer firefighter, wrestling coach and pastor struggling to support his family in a tough economy.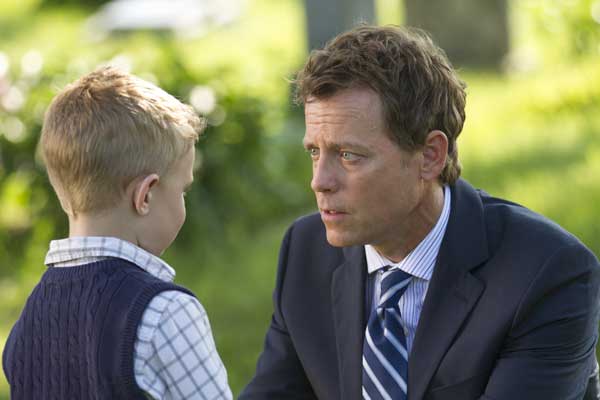 Playing the father of two, husband, firefighter and business man wasn't tough for Greg Kinnear but standing in front of 300 cast members and extras giving a sermon proved humbling for the 50 year-old actor who had never played a preacher before.
"You're very vulnerable facing 300 or 400 people, staring at you… kind of looking for an answer or internal questions. That's a powerful job and you have to have a powerful conviction which Todd very much has."
Kinnear says it gave him a new respect for the vocation. Kinnear didn't watch any of Todd Burpo's sermons, but he got a sense of the man from Skyping with him early on in 2013. He recalls Todd as "very forthcoming, accessible, open" but also "trepidacious" at having his story told on the big screen by Hollywood. Kinnear also tapped into his own small town experience in Indiana. He got a "sense of the man" who felt very familiar to people in his own town including the pastors he was exposed to.
While Kinnear didn't say whether he's a man of faith, he says HEAVEN IS FOR REAL is accessible to all regardless of their religion or faith. He calls it a "hopeful and compelling story" in how a family comes together in a moment of crisis.
HEAVEN IS FOR REAL opens April 16, 2014.