Details

Category: Interviews
Created: Friday, 14 November 2014 08:13
Published: Friday, 14 November 2014 08:47
Written by Lupe R Haas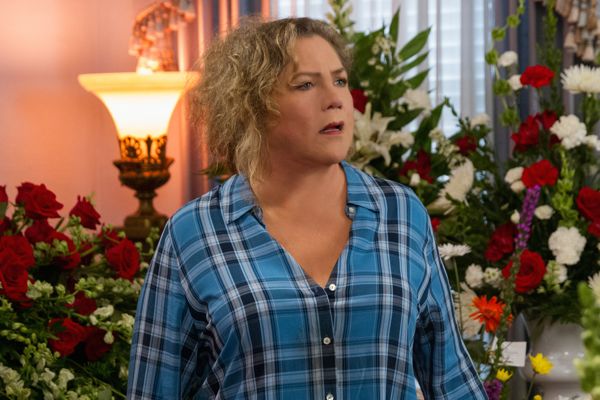 Kathleen Turner stars alongside dummy alumni Jim Carrey and Jeff Daniels in DUMB AND DUMBER TO, and doing something she's never done before - improvising. The veteran actress is talking about working on the slapstick comedy, her approach to picking characters, and why she thought the original DUMB AND DUMBER TO was "really stupid."
As one of the few strong leading ladies in the 80s and 90s, Turner starred in many memorable roles as a take charge woman in films such as Body Heat, Serial Mom, Romancing the Stone and War of the Roses. Not one to play a man's side piece, the 60-year-old says she picks roles based on whether the woman's role is vital to the story.
"The roles that I am attracted to are women who try to do something about their lives, and not a woman who waits for some circumstance or man to come rescue her. I have no interest in that. The bottom line really, truly is, if you take the script and you take the woman's character out of it, does anything change, other than that the man doesn't have a girlfriend or a mother. If the story doesn't change, they don't need me."
Turner applied her test to her DUMB AND DUMBER TO character Fraida. Fraida is important to the story since she sets Lloyd and Harry on their quest to find Harry and Fraida's daughter. "Obviously, you can't take Fraida out of this, or you wouldn't have the daughter, you wouldn't have the pursuit, and you wouldn't have the story," she surmises.
Kathleen Turner is not shy about admitting that the first DUMB AND DUMBER was "really stupid," which she understands was the intention. She is a fan, however, of the Farrelly brother's style of comedy.
"So much of the humor nowadays is rather mean-spirited. It's based on someone's humiliation. There's a sweetness to the Farrellys' humor. Yeah, these guys are really dumb. They're really stupid. But that doesn't make them bad people."
When it came to improvising with Carrey, Daniels and Rob Riggle on set, the stage actress had to be coaxed into participating and coming up with funny lines. While she's no stranger to comedies (Peggy Sue Got Married, Serial Mom), she is new to the physical comedy. "That was fun, but a little scary. I don't think I'm a great improviser, but I was okay," she says of the experience.
CineMovie asked Turner if it she's able to find similarly strong female characters nowadays. Turner tells us she's made stage life her career since most juicy roles for women can be found mostly in theater productions, and not on film. It's much harder for an aging actress to find roles that are not being taken by Meryl Streep, so she shares her secret to a lasting career for women.
"For women, longevity of career will very much be on stage. The roles that I get to play now, of these extraordinary women, will not be on film. They're not commercial enough. I'm quoting a studio executive. What does he know?! Anyway, my point is that, if you're asking about a long career, you need stage."
Besides her stage career, Turner teaches master classes in acting in New York and on location when she's working. She's currently writing an acting book with a University of Portland professor. One of the recommendations includes career advice to women. She always advises aspiring actors especially women to get good stage training rather than starting out on film or television first.
"It is essential to have a good basis in stage technique. You can move into film easily, and acquire more skill and more understanding, but you can't necessarily go the other way around."
Turner spends most of her time on stage nowadays. "That's my life," she says of her time on Broadway and West End in London having just finished a play, "Bakersfield Mist."
Now she's out and about promoting DUMB AND DUMBER TO and gracing us with her performance on the big screen once again.