Details

Category: Interviews
Published: Wednesday, 12 September 2018 17:52
Written by Lupe Rodriguez Haas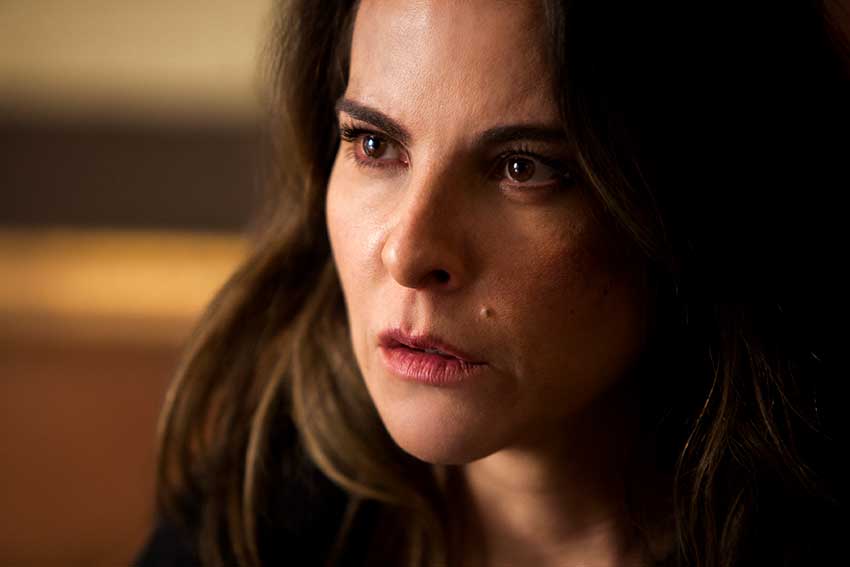 Kate del Castillo returns as the first lady turned revolutionary leader in the Netflix original series, "Ingobernable" season 2. The new season finds Kate in perilous situations that involve torture and imprisonment. The Mexican actress admits she loves the action and she will take on the stunts as much as she can.
Kate del Castillo reprises her role as Emilia Urquiza, the fictional first lady of Mexico in "Ingobernable" season 2. This season Emilia will become a true revolutionary leader against the government corruption which involves her family. She's on a quest to expose the guilty and save her daughter Maria from those elements.
At the start of season 2, Emilia is captured and tortured for information about the rebels. She's waterboarded, pulled by the hair up a flight of stairs and submerged in a jacuzzi. As a viewer you can't help but grimace at the torture, and Kate tells CineMovie she felt the same way watching it herself.
I watched it and I was like, 'Ugh! This is brutal and hard.' This second season has so much. It looks so major in terms of production. I see it huge in terms of trauma, actors, not just because I'm in it, but truthfully this one is superior to the first season."
For most of the stunts, she did as much as she could safely while shooting in Colombia. She admits she's very territorial about her roles, and prefers not to have stand-ins especially at other remote locations.
"Even if it's simply running. Nobody runs like me."
For the waterboarding scene, she did as much as possible and she boasts she held her breath longer than her stunt double. She could've gone longer but the stunt coordinator got nervous and signaled the actors to stop instead of waiting for Kate to make the call.
"You should've left it longer. I love being tortured," she joked with the stunt coordinator when he stopped the scene.
The actress ended her day exhausted not just physically but emotionally drained because of the action and acting out the trauma of losing her family members one by one on the show.
After shooting INGOBERNABLES season two, the actress returned to the role that made her most famous with "La Reina del Sur." She's currently shooting a follow-up to the Telemundo hit up until December.
Kate reveals her character will find herself in a strange place under a new identity and pregnant. The series will then fast forward nine years later as she cares for her daughter amidst the usual turmoil that goes along with being a former leader of a drug cartel.
Reprising her role as Teresa Mendoza in the "Reina del Sur" sequel was not easy.
It's been super difficult. I was so nervous to return to a character so beloved and so anticipated, and it all falls on me. I'm really, really nervous because after eight years, I didn't remember how she spoke and many other things. And see the amazing thing about the body is that it slowly came back as soon as 'action' was called and right away I connected. And I've been enjoying it like crazy but at the same time for me it's a lot of pressure."
She hopes the follow-up will as successful in the ratings as the first one which ended in 2011, but she's realistic in that a lot has changed since then with so many options now available for viewers like Netflix.
After wrapping up "La Reina del Sur" later this year, the Mexican native may be looking to add a comedy to her projects after a few years in the action genre.
"I need a light comedy. I would be so happy. I don't want any more drama in my life. I want to stop running."
She is looking forward to possibly taking her 2017 theater act "I'm Okate," a satirical comedy based on Kate del Castillo's life, on a world tour. Or perhaps she may propose the idea of a Netflix show based on that play.
Until then, enjoy Kate del Castillo the action star in INGOBERNABLE season 2 on Netflix premiering Friday, September 14.