Details

Category: Interviews
Created: Thursday, 18 December 2014 09:01
Published: Thursday, 18 December 2014 08:12
Written by Lupe R Haas
THE GAMBLER's John Goodman did something he's never done before in a movie - take off his clothes and act in a towel. Would he do it again, probably not says the actor. THE GAMBLER star also tells us part of the attraction of playing a loan shark in the remake was acting alongside Mark Wahlberg who he admires greatly.
John Goodman didn't mind joining the remake to the 1974 classic by the same name originally starring James Caan because of the smart dialogue in the updated version by screenwriter William Monahan (The Departed), and most of all working with Mark Wahlberg was a definite plus.
"I really admire Wahlberg. I really do. I think the world of him. I wanted the chance to work with him."
He adds that he's never played a character quite like this before. As Frank the loan shark in THE GAMBLER, the bald-headed, steam-loving character takes a big risk loaning money to the unstable Jim Bennett (Wahlberg) who's reckless with the borrowed money at his terrible gambling choices. Goodman not only shaved his head for the role, but he's introduced in the movie wearing nothing but a towel while he's steaming in a sauna. Frank looks like a guy you may want to pay back if you don't want to end up dead.
The actor joked that would be the last time we see him in a towel . "I don't think I'm going to do it again," says the 62-year-old actor.
He didn't mind so much shaving his head for THE GAMBLER at the request of director Rupert Wyatt. Goodman went bald five years ago for a play, but he says the problem is his head never looks quite shaven because of his stumble.
"I always looked like Knuckled Smith, this ventriloquist dummy with no hair."
That problem was solved with a little bit of spray paint which created a nice shine to his bald head.

When watching the film for the first time at the premiere at the AFI Film Fest in November, Goodman admits to feeling uneasy watching himself in certain scenes because he always feels he could've done better, but that's just not the case. His foreboding presence adds a lot to the film. Perhaps he feels extra vulnerable at seeing himself half-naked on the big screen, which is understandable.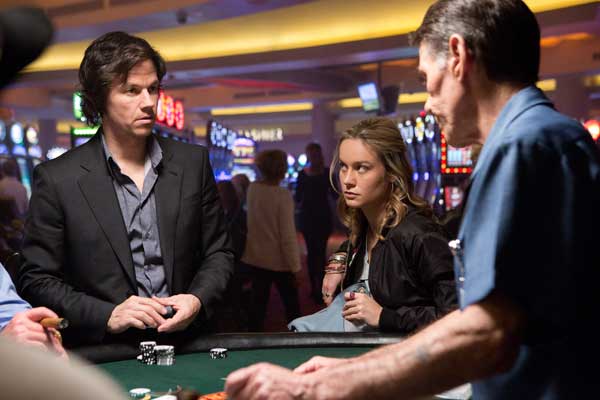 Unlike Mark Wahlberg's unlucky streak at cards in THE GAMBLER, is John Goodman much of a gambler? Goodman tells CineMovie, "I suck" and he doesn't consider himself lucky at playing cards so he's stayed away from it since he stopped drinking.
He may be unlucky at gambling, but he proves himself a winner once again in another scene-stealing role in THE GAMBLER. THE GAMBLER is in movie theaters Christmas Day (December 25.)