Details

Last Updated: Sunday, 19 January 2014 03:55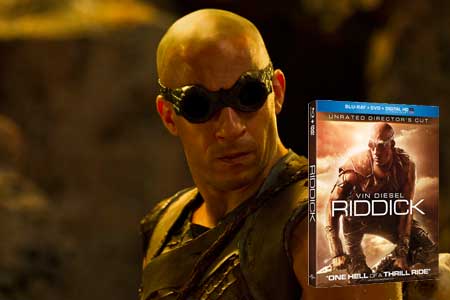 Fans of Vin Diesel's Riddick can now add another trilogy to their collection. The last film in the series, Riddick, arrives on Blu-ray and DVD with an Unrated Director's Cut with an alternate ending. The two previous films are also packaged together. Check out the bonus features on the Blu-ray disks.
Also available on January 14 is the complete collection of the three movies plus a bonus short film. Titled Riddick: The Complete Collection, it includes the feature-length movies Riddick, Pitch Black, The Chronicles of Riddick and the short The Chronicles of Riddick: Dark Fury.

RIDDICK also stars Jordi Molla, Katee Sackoff, Karl Urban and Dave Bautista.

VIDEO: Jordi Molla on Playing a Han Solo-Type

Bonus Features Exclusively on Blu-rayTM

• The Twohy Touch—In this short film, writer and director David Twohy explains the development of Riddick, the third feature film in his high-concept sci-fi series. Interviews and on-set footage detail Twohy's vision and inspiration, as well as the creative collaboration between the filmmaker and star Vin Diesel that takes the cult franchise to a new level.
• Riddickian Tech—The filmmakers, including Riddick's amazing effects team, talk about the extraordinary technologies used to create Riddick's eye-popping sci-fi elements, from the practical effects to the green screen wonders that made it possible to bring this high-intensity, futuristic thriller to the big screen.
• The World Of Riddick—Key members of the filmmaking team, including director David Twohy, production designer Joseph C. Nemec III and director of photography David Eggby talk about the inspiration and influences behind the film's vivid and unique visuals and savage predators.

Bonus Features on Blu-rayTM and DVD

• Vin's Riddick—Vin Diesel, his co-stars and the entire filmmaking team provide an inside look at the superstar's passion for everything from the film's production and development to his intensive physical training, as well as just what makes Diesel ideal for the role of the indestructible Richard B. Riddick.
• Meet The Mercs—From Karl Urban and Katee Sackhoff to Jordi Mollà, Dave Bautista, Bokeem Woodbine, and Nolan Gerard Funk, this featurette spotlights the dynamic supporting cast of Riddick and the characters they portray, exploring what the actors bring to their roles, as well as the weapons and clothing styles that define them to enhance this heart-stopping thriller.
• Riddick: Blindsided—A motion comic prequel to Riddick that fills in the gap since 2004's The Chronicles of Riddick.