Details

Category: Photo Galleries
Published: Saturday, 28 September 2013 13:36
Written by Lupe Haas
Chris Evans returns as Captain America along with a few Avengers/S.H.I.E.L.D. members including Scarlett Johansson's Black Widow, Samuel L. Jackson as Nick Fury and new Avenger Anthony Mackie as the Falcon in CAPTAIN AMERICA: THE WINTER SOLDIER. We have yet to see any footage or teaser trailer from the new Marvel film so here's some concept art to hold us over as we await a teaser trailer.

Captain America and his new team are fighting a new enemy, but it's someone from Steve Rogers' past. Bucky (Sebastian Stan) from the first film has returned as the Winter Soldier. Check out some concept art of the Winter Soldier in this photo gallery.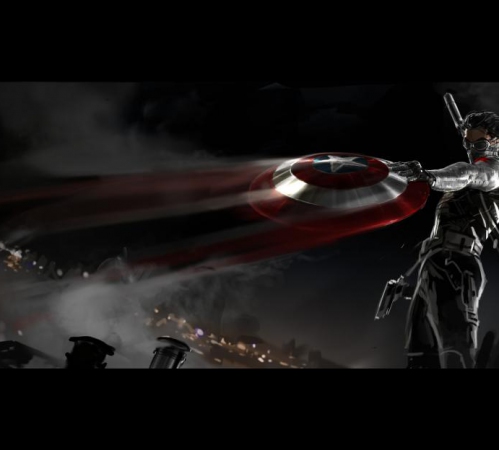 More about CAPTAIN AMERICA: THE WINTER SOLDIER:

After the cataclysmic events in New York with The Avengers, Marvel's "Captain America: The Winter Soldier" finds Steve Rogers, aka Captain America, living quietly in Washington, D.C. and trying to adjust to the modern world. But when a S.H.I.E.L.D. colleague comes under attack, Steve becomes embroiled in a web of intrigue that threatens to put the world at risk. Joining forces with the Black Widow, Captain America struggles to expose the ever-widening conspiracy while fighting off professional assassins sent to silence him at every turn. When the full scope of the villainous plot is revealed, Captain America and the Black Widow enlist the help of a new ally, the Falcon. However, they soon find themselves up against an unexpected and formidable enemy—the Winter Soldier.

Based on the ever-popular Marvel comic book series, first published in 1941, Marvel's "Captain America: The Winter Soldier" is produced by Kevin Feige, directed by Anthony and Joe Russo, from a screenplay by Christopher Markus & Stephen McFeely, and stars Chris Evans, Scarlett Johansson, Sebastian Stan, Anthony Mackie, Cobie Smulders, Frank Grillo, Emily VanCamp and Hayley Atwell, with Robert Redford as Alexander Pierce and Samuel L. Jackson as Nick Fury.

U.S. Release date: April 4, 2014
Cast: Chris Evans, Scarlett Johansson, Sebastian Stan, Anthony Mackie, Cobie Smulders, Frank Grillo, Emily VanCamp, Hayley Atwell with Robert Redford as Alexander Pierce and Samuel L. Jackson as Nick Fury
Directors: Anthony and Joe Russo