Details

Last Updated: Tuesday, 12 November 2013 05:45
Written by Lupe Haas
CineMovie sat down with Routh, 30, for an exclusive interview with one of the seven super baddies of SCOTT PILGRIM VS. THE WORLD.
After getting his big break as the Man of Steel in the 2006 film, Brandon has carved out a place in Hollywood, both in movies (Zack & Miri Make A Porno) and television (NBC's Chuck).

After Superman Returns, the 6-foot-3 actor said he turned down many horror film offers in favor of comedy scripts.


In his latest role as Todd Ingram, a villainous rock n' roll bass player with super powers, Brandon said he enjoyed showing off his comedic chops -- and his evil side.

"I'm playing a villain, which is a great role reversal and I'm getting to do comedy," Routh told CineMovie exclusively, adding that he was not worried about being typecast as a comic book character in SCOTT PILGRIM VS. THE WORLD because "it was such a different script. It was a different type of comic book."
SCOTT PILGRIM is the third comic book adaptation for Brandon; before the production of SCOTT PILGRIM, he filmed Dylan Dog: Dead of Night, an Italian comic series set in the Louisiana bayou in which he plays a supernatural private eye. Dylan Dog is set for release later this year.

For SCOTT PILGRIM VS. THE WORLD, Routh donned a harness and wires once again for the fight sequences with Cera's Scott Pilgrim. Working on SCOTT PILGRIM's stunts was a "piece of cake," according to Brandon, who spent four months on wires for Bryan Singer's SUPERMAN RETURNS.

Michael Cera and his co-stars weren't so lucky, as they were subjected to high-flying stunts for weeks while Brandon was only subjected to it for two days. His time on the wires was further cut down by employing an old-fashioned stunt trick. For his levitation scenes, Brandon stood on a teeter-totter type contraption which raised him a short distance off the ground.

The "biggest stunt" for Brandon was playing the bass guitar, but the musically-inclined actor picked up the instrument quickly. Growing up with musician parents, the Iowa native learned music theory during his trumpet and piano playing days. Impressed with his fancy finger work on the bass, Brandon admits he was disappointed when he saw the final product and his jam session was cut down. While saddened at his music skills being left on the cutting room floor, he said he was thoroughly impressed after watching SCOTT PILGRIM VS THE WORLD.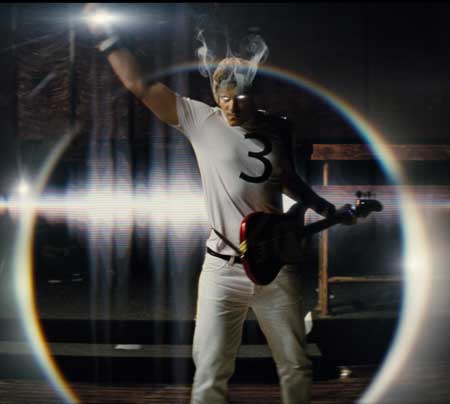 Director Edgar Wright took the film beyond what he imagined from the script and Edgar's description of the special effects, Routh said. For one, Brandon was surprised to see in the first SCOTT PILGRIM trailer that glowing eyes had been added to his Todd Ingram character. The actor, who donned two blond wigs for the part, also noted the script had "video game asides like in the comic" which had nothing to do with the story, but there to set the backdrop for the world in the film. In hindsight, while those descriptions worked on the page, but the director took it to another level in the film.

Brandon's ninth-level, telepathic, vegan rock star is only one of the many wild personalities that surround Scott Pilgrim in his quest to defeat his new girlfriend's seven evil exes. This love story combines different genres and style with action, comedy, comic book style effects -- and some good old rock n' roll mixed in with video game style fights.

Edgar Wright's take on the graphic novel succeeds in every level, according to Brandon, who calls the film "revolutionary" and "genre-busting" because of its various influences.

"It's a melting pot of many pop culture references and nostalgia," Routh said, adding the film can be "ludicrous" at times because "there are no rules in the world of Scott Pilgrim" (unlike Inception which revolves around rules). However, like Inception, multiple viewings will be required to catch some of the hidden references or "Easter Eggs" (usually found in DVD bonus features) planted by Edgar Wright.

Brandon hopes audiences will get the same "kick out of it" and be open-minded to the fascinating world of Scott Pilgrim, when SCOTT PILGRIM VS. THE WORLD opens August 13.