Coming Soon
Details

Category: Coming Soon
Published: Sunday, 01 July 2012 17:00
Written by Ethan Falk
Page 1 of 2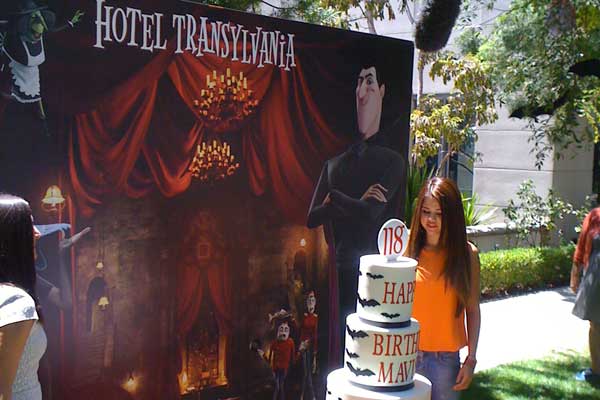 Cinemovie just celebrated vampire girl Mavis' 118th birthday with Selena Gomez and director Genndy Tartakovsky of HOTEL TRANSYLVANIA. We got an insider sneak peek of the animated film with three never-before-seen clips on the Sony Pictures lot and chatted it up with some of the people behind the project. Not to mention, the party was off the hook with food, Spa massages, and of course, a very special preview!

Adam Sandler, Selena Gomez, and Andy Samberg lend their voices to the Sony Animation Pictures animated 3D comedy HOTEL TRANSYLVANIA opening September 28th. Secluded from humans in the depths of a creepy forest lays the Hotel Transylvania, a resort run by Dracula where ghosts, ghouls, goblins, and skeletons roam free. Just to give you an idea, some of these resident monsters include: Frankenstein (Kevin James), Wayne the Werewolf (Steve Buschemi), Griffin the Invisible Man (David Spade), and Murray the Mummy (CeeLo Green) to name a few.


Also amidst this mad-monster-party, lives a 118-year-old teenager named Mavis, voiced by Selena Gomez. Mavis desperately yearns to spread her (bat) wings and fly into the real world, but Dracula (Sandler), being the overprotective father that he is, forbids her from it. Until one day, the "real world," embodied by a 21-year-old human-dude named Jonathan (Andy Samberg), stumbles upon the doors of the hotel and catches the eye of Mavis. Adventure ensues.


While on the Sony Studios Lot in Culver City, CineMovie and a select few were treated to three scenes from HOTEL TRANSYLVANIA complete with complimentary hotel spa massage, and birthday cake, followed by a Q&A with actress Selena Gomez and Genndy Tartakovsky.
The animators did a fantastic job of creating eye-popping visuals that are sure to keep you glued to the screen for every frame. The animation style gave wonderful expressiveness and personality to the voices behind the characters, doing justice to the all-star comedic cast. Tartokovsky really pushed the limit on what can generally be done with CG by really emphasizing movement and expression to the point of caricature-ism. The rich colors, depth of artwork, and textured cartooning will come across as eye-candy leaving audiences wanting more. Can't wait to see how stunning the 3D will turn out

PREVIEW CLIPS
The first clip was a scene where Mavis begs her father to allow her to leave the hotel after her 118th birthday. Dracula is so compelled to keep her home, he devises a plan to trick her into wanting to stay. He tells her she can leave, but insists that she visit a nearby town to start off slowly. Unbeknownst to her, Dracula has assembled this little town and has filled it with zombies to frighten her into not wanting to leave the hotel ever again.

The second clip introduces Jonathan, the doofy, back-packing traveler with a free spirit. He obliviously stumbles upon the monster hotel and is completely unaware of its authenticity. In a frenzy, Dracula drags Jonathan into a closet and disguises him as a monster. Jonathan thinks he's at the most legit costume party ever until he playfully sticks his hand through a skeleton's ribcage, only to discover it wasn't just a costume.

The next clip shows Dracula as he attempts to erase Jonathan's memory with his hypnotic, lord-of-darkness gaze. Much to Drac's dismay, it can't penetrate through Jonathan's contact lenses.

The final clip shows a fun spirited side to Dracula as he and Jonathan jet through the long halls of the hotel on flying tables in a Star Wars-esque chasing sequence. It's sure to be one of the most memorable and exciting scenes in the movie.

Afterwards, Selena Gomez and Genndy Tartakovsky answered a few questions about their new upcoming movie.

Q: Do you feel that in this movie the monsters could be a little scary for younger audiences?
Selena: People have kind of changed their perceptions of monsters within tons of movies that have come out. It's hard to scare kids now. It really is. We just kind of put a lightness to it so everyone enjoys it and its more fun than anything else. You even notice that our human character doesn't even get scared.

Genndy: We purposely set off not to do a kids scary movie, but a monster fun movie that has really no scares in it. It was a very conscious choice to put in a more fun direction.

Q: Selena, what are your favorite hotels to visit in real life?
Selena: Hmm. I don't know. To be honest, I'm in places for like a day so I don't even know where I'm staying. My mom's more about the spas, so I just kind of follow her. We stay in different places all the time, fun ones and cool ones. I've stayed in haunted ones too before.

Q: What haunted hotels have you stayed in?
Selena: Well, It was actually for my birthday so this sounds a little weird. I like getting scared… so we were on tour and they had me stay in a hotel in Utah and it was haunted. Nothing happened so I was a little bummed, but it was still freaky being there.

Q: Selena, you have a birthday coming up. Do you know how you're going to celebrate?
Selena: I do! I have to go to the Teen Choice Awards on my birthday. That's where I'll be. I'll probably go to dinner with my family. It's 20, not really that exciting.

Q: Genndy, were there any films or stories you wanted to pay homage to?
Genndy: For me it's funny because I don't like being scared, so I stay away from it. I grew up with Abbot and Costello, Frankenstein, and the Wolf-man type movies. And also of course Young Frankenstein, so I think that's the funniest monster movie. We didn't really make an homage to anything, but I think that's the closest where the sensibility would come from.

You can visit HOTEL TRANSYLVANIA when it hits the big screen on September 28th. Watch Trailer.

Follow Ethan on Twitter @EthanFalk