Coming Soon
Details

Category: Coming Soon
Published: Monday, 15 April 2013 21:58
Zoe Saldana asked JJ Abrams for more of a badass role in the Star Trek sequel and she may have gotten her wish. The actress' character Uhura graces her own STAR TREK INTO THE DARKNESS character movie poster.

Zoe Saldana reprises her role as Nyota Uhura in STAR TREK INTO THE DARKNESS along with her fellow USS Enterprise crew John Cho, Benedict Cumberbatch, Alice Eve, Bruce Greenwood, Simon Pegg, Chris Pine, Zachary Quinto, Karl Urban, Peter Weller, and Anton Yelchin. In the reboot of 2009's Star Trek, the only action Uhura saw was in the love department with Spock (Zachary Quinto). We know Zoe Saldana can kick butt as best exemplified with her fighting style in Colombiana, The Losers and Avatar. We're looking forward to seeing Saldana as Uhura once again with hopefully a larger role in saving the world.

STAR TREK INTO THE DARKNESS opens May 17, 2013.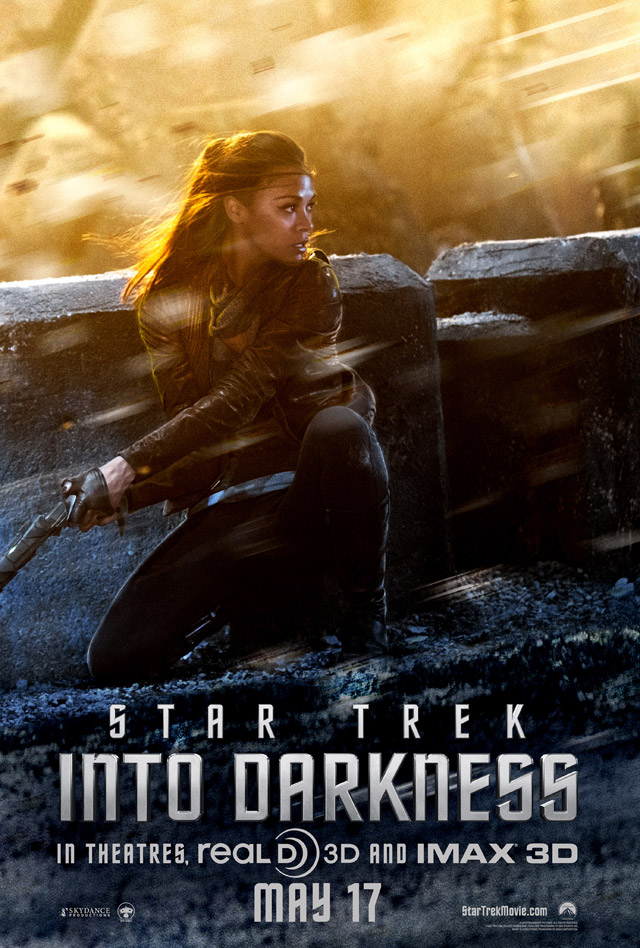 About the movie: In Summer 2013, director J.J. Abrams will deliver an explosive action thriller that takes Star Trek Into Darkness. In the wake of a shocking act of terror from within their own organization, the crew of The Enterprise is called back home to Earth. In defiance of regulations and with a personal score to settle, Captain Kirk leads his crew on a manhunt to capture an unstoppable force of destruction and bring those responsible to justice. As our heroes are propelled into an epic chess game of life and death, love will be challenged, friendships will be torn apart, and sacrifices must be made for the only family Kirk has left: his crew.
Related Articles
William Shatner Takes On Old Foe Lizard Alien For STAR TREK: THE VIDEO GAME
Star Trek Into Darkness New International Movie Trailer
STAR TREK INTO DARKNESS 14 New Movie Images
STAR TREK INTO THE DARKNESS New Motion Movie Poster & Featurette