Details

Category: Interviews
Created: Thursday, 03 October 2013 21:47
Published: Thursday, 03 October 2013 21:47
Written by Lupe Haas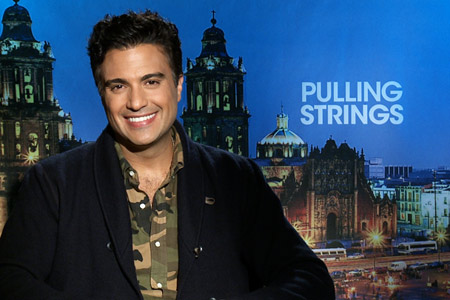 Mexican star Jaime Camil shows off his musical talents as a mariachi singer in PULLING STRINGS and donning the sexy mariachi outfit made him feel like a superhero.
Best known for his roles as the comedy relief, Jaime Camil leaves the funny up to his co-star Omar Chaparro and takes on the romantic lead as the straight man in the bilingual romantic comedy, PULLING STRINGS. More than just a mariachi, Alejandro has a second full time job - he's a single dad. When Alejandro is denied a visa by a young embassy worker (Laura Ramsey) for his young daughter to visit her grandparents in the U.S., Alejandro must find a way to change her mind.

CineMovie sat down with the PULLING STRINGS star who says he channeled singers Pedro Infante, Augustine Lara, Jorge Negrete, and Javier Solis for his role as a struggling mariachi singer named Alejandro Fernandez. He took inspiration from the Golden Age of Mexican Cinema for his singing. "They caress the songs. They tell you the songs," he says. He also calls the film "a love letter to Mexico" representing the culture in music and settings of the film.

For the first time, we're seeing Jaime Camil sing on screen. The "Betty La Fea" and "Por Ella Soy Eva" actor has sung in musical productions, but in PULLING STRINGS he's actually serenading as a mariachi. He jokes he saved the studio money by taking on the task of singing.

The handsome star looked quite fetching in mariachi sombero and tight-fitting pants. While the ladies think it sexy, Camil felt like a superhero. Wearing the iconic outfit of the classic musicians of Mexico was an honor for him. As a kid, he imagined himself a superhero when he tied the table cloth to his neck as a cape. Donning the mariachi outfit gave him the same feeling.

PULLING STRINGS opens October 4th and he's hoping the film targeted towards the Latino audience will have the same results as Pantelion Films' Instructions Not Included starring another famous Mexican actor, Eugenio Derbez.